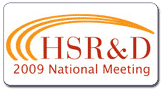 3122 — Access to Bevacizumab for First-Line Metastatic Colorectal Cancer: A Cancer Outcomes Research & Surveillance Consortium (CanCORS) Study
Zafar SY (Duke University Medical Center, Durham VA Medical Center) , Grambow S (Durham VA Medical Center, Duke University Medical Center), Abbott DH (Durham VA Medical Center), Schrag D (Dana Farber Cancer Institute), Zullig L (Durham VA Medical Center), Kolimaga J (Durham VA Medical Center), Weeks JC (Dana Farber Cancer Institute), Provenzale D (Durham VA Medical Center, Duke University Medical Center)

Objectives:
Bevacizumab is a relatively novel, costly anticancer agent. First-line approval of bevacizumab has significantly improved outcomes for patients with metastatic colorectal cancer (mCRC). The objective is to describe which patient characteristics are related to receipt of bevacizumab.
Methods:
CanCORS is a multi-health system, prospective, cohort study. Using CanCORS data, rates of bevacizumab delivery after FDA approval in the first-line treatment of mCRC at diagnosis were determined. Eligible patients were treated for mCRC between 2/2004-1/2006. Data were abstracted regarding sociodemographics, disease stage, date of first treatment, therapeutic agents delivered, and comorbidity. Of 3678 incident colorectal cancer patients with complete record reviews, 764 (21%) had stage IV disease at diagnosis. Of the 764 with metastatic disease, 382 began receiving chemotherapy after 2/2004, when bevacizumab was FDA-approved. Analysis focused on these 382 patients. Logistic regression was used to evaluate factors associated with treatment.
Results:
Sixty-seven percent were male, 19% were > = 75 years, and 61% were Caucasian. 73% percent had no or mild comorbidity. Thirty-three percent had primary private insurance, 23% had VA healthcare, 29% had non-private primary insurance (Medicare, Medicaid, and other), and 3% had no insurance. Overall, 22% received first-line bevacizumab. Patients with private insurance were more likely than those without to receive first-line bevacizumab (p = 0.036). Patients with non-private insurance were least likely to receive bevacizumab (OR 0.33; 95% CI 0.15-0.75). Men were less likely than women to receive bevacizumab (OR 0.40; 95% CI 0.21-0.76; p = 0.005). Patients with moderate to severe comorbidity were more likely to receive bevacizumab than those with no or mild comorbidity (OR 1.44; 95% CI 1.06-1.95; p = .018).
Implications:
Less than a quarter of eligible patients studied received first-line bevacizumab in the period following FDA approval. Women, patients with private insurance, and patients with moderate to severe comorbidity were more likely to receive the drug. This study provides the first analysis of patient characteristics which influence delivery of bevacizumab in the treatment of metastatic colorectal cancer.
Impacts:
Access to novel anticancer agents might be influenced by patient characteristics including gender and insurance status.