Video Views Archive: VA Researchers Talk About Their Work and Healthcare for Veterans
Video Archive Topics:
Dementia | Diabetes | Genetic Research | HIV | Homelessness | Hypertension| Mental Health | Obesity | PACT | Pain | Polytrauma | Telehealth | Women's Heath
||New videos||
Dementia
Diabetes
Learn More

VA HSR&D Quality Enhancement Research Initiative (QUERI) program on diabetes.
Visit the VA Office of Research & Development's diabetes research information page.
Visit the National Institutes of Health National Institute of Diabetes and Digestive and Kidney Disease's diabetes health information web page
Genetic Research
Learn More
HIV
Homelessness
Overview of Homelessness Research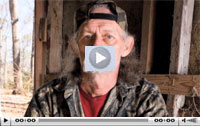 This video provides a brief overview of health services research into Veteran homelessness. To learn more about each investigator's specific projects, watch the videos below.

Ending Homelessness in VA
by Stefan Kertesz, MD (3:18 min)



Managing Addiction and Homelessness
by Andrew Saxon, MD (3:11)



Health Impacts of Homelessness
by Thomas O'Toole, MD (4:11)





Addressing Homelessness and
Serious Mental Illness
by Amy Kilbourne, PhD, MPH (2:25)

Learn More
Polytrauma
Telehealth
Patient Aligned Care Team (PACT)
Learn More

Find out how VA is communicating with doctors about patient aligned care teams (PACTs) on the VA's Office of Primary Care PACT physician information page.
Read more about how patients respond to PACT-based care.
Download a brochure about the patient's role in PACT-based care.
Pain
Mental Health

Integrating Mental Health into Primary Care
by Lisa Rubenstein, MD, MSPH (3:09)





Improving Schizophrenia Treatment
by Alexander Young, MD (3:37 mins)




Learn More

Visit the VA HSR&D Quality Enhancement Research Initiative's Mental Health (MH-QUERI) website
Read the MH-QUERI fact sheet describing their research projects and recent impacts on patient care.
Visit the VHA's Office of Mental Health website
Obesity
Women's Health
Other VA researchers on video