HSR&D Research Briefs is an electronic newsletter designed to disseminate news and information to the HSR&D investigator community. In this issue:
"Transforming Veteran Healthcare through Partner-Oriented Research" was the theme of the 29th VA Health Services Research and Development Service (HSR&D) and Quality Enhancement Research Initiative (QUERI) National Conference. Hosted by HSR&D's Center for Health Services Research in Primary Care, located in Durham, N.C., the meeting was held from July 16-19, 2012 in National Harbor, MD. Meeting participants selected among 121 peer-reviewed, highly rated scientific paper sessions, 40 workshops, and 146 posters on vital healthcare issues, such as: chronic disease management (e.g., heart disease, hypertension, diabetes), mental health, substance use disorders, telemedicine, women Veterans' healthcare needs, patient-aligned care teams (PACTs), and deployment-related health issues (e.g., traumatic brain injury, PTSD, and chronic pain).
To read presentation slides, listen to audio files, or view abstracts and other meeting materials, visit the National Conference Intranet page at: http://vaww.hsrd.research.va.gov/meetings/2012/presentations.cfm (INTRANET ONLY)
Under Secretary for Health Award Recipient Elizabeth Yano, Ph.D., M.S.P.H.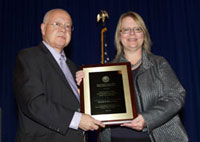 Elizabeth Martin Yano, Ph.D., M.S.P.H., was the recipient of the 2012 Under Secretary's Award for Outstanding Achievement in Health Services Research, the highest honor for a VA health services researcher. Dr. Yano is the Director of HSR&D's Center for the Study of Healthcare Provider Behavior in Sepulveda, CA, and has been a part of the Center since its inception in 1993. She also has been part of the VA Greater Los Angeles Healthcare System for more than 20 years.
In presenting her with the award, VHA Under Secretary for Health Dr. Robert Petzel said, "Becky exemplifies this award in that the impact that her work has made to VA has been outstanding. She has made an indelible mark on VA research, policy, and clinical operations."
During her acceptance remarks, Dr. Yano discussed her education and career path, emphasizing the close involvement that mentors have had on her throughout the years; in particular, Dr. Yano mentioned the ongoing role played by her mentor, and now colleague, Dr. Lisa Rubenstein, Director of HSR&D's Center for Implementation Practice and Research Support, Sepulveda, CA.
Dr. Yano's interest in healthcare was spurred early on by several childhood memories of family interactions with the healthcare system that demonstrated gaps in quality of care and patient respect. Determined to address these experiences, she focused on research in college, pursuing her BS in psychobiology as a UCLA undergraduate. She later transitioned to public health, studying research methods and chronic disease epidemiology as she earned her master's degree, also at UCLA. She soon envisioned how epidemiologic methods could be used to critically examine quality problems as she began focusing on how exposure to healthcare delivery affected the health of practices and populations. Dr. Yano then embarked on a RAND Pew doctoral fellowship program in epidemiology at UCLA, noting that, "I benefited from a very timely moment at UCLA and RAND during which quality of care and determinants of variation in healthcare delivery were being examined."
Since joining VA, Dr. Yano has become deeply involved with examining primary care delivery and organizational influences on quality, a focus that has carried her forward to one of her current main areas of research: implementation and impact of patient-centered medical homes, with an emphasis on VA's Patient Aligned Care Teams (PACT) model. She is currently evaluating national data to better understand the core features and enablers of high-performing primary care practices, and is leading the evaluation of evidence-based, quality improvement-supported implementation of PACT innovations as part of the VISN22 PACT Demonstration Lab.
Her focus on primary care evolved to include primary care for women Veterans. She chaired the first Women Veterans Health Research Agenda meeting in 2004 and again in 2010, and has since guided achievement of its tenets and fostered research-clinical partnerships to advance evidence-based care. About this work, she notes, "For women Veterans' research, I'm interested in how we deliver primary care to women because it's different for several reasons: women Veterans' experiences are different, how they use VA care is different, and the mix of services and care environment needs are different. It can be a huge challenge because of women Veterans' numerical minority; conversely, it can be a great opportunity because it pushes both our thinking and conceptualization of care models — and pushes us to reconsider what we think should, or can, work in the context of our existing resources."
As a part of her acceptance remarks, Dr. Yano credited the supportive environment within VA HSR&D, saying, "This (kind of) research doesn't happen if it's not in a supportive environment." Dr. Yano encouraged beginning health services researchers to follow their passion, and to "find things that make a difference," and urged all researchers to increase their partnerships with VA policymakers and providers, to continually increase the impact of research on the healthcare Veterans receive.
Research News
Call For Abstracts: Academy for Healthcare Improvement
The Academy for Healthcare Improvement will hold their 18th Annual International Scientific Symposium on Improving the Quality and Value of Health Care, and has issued a call for abstracts. The submission deadline is September 4, 2012, and more information is available online.
VA HSR&D Researcher Natalie Dell Brings Home Olympic Medal
Natalie Dell, M.P.H., a Health Services Research and Development Service (HSR&D) project coordinator at the Bedford VA Medical Center, and her teammates earned an Olympic Bronze Medal in the Women's Quad Scull Olympic Final. Learn more...
Center of Innovation (COIN) Initiative Updates
2012 Summit on the Science of Eliminating Disparities
The Department of Health & Human Services' Office of Minority Health will hold its 2012 Summit on the Science of Eliminating Disparities from October 31–November 3 at the Gaylord National Harbor Hotel in National Harbor, MD. To learn more about the Summit, or to register, visit the event website.
Palo Alto Holds Women's Research Roundtable
In support of its longstanding commitment to women Veterans' health, VA's Office of Research & Development (ORD) held a virtual media roundtable addressing women Veterans' health research. The roundtable featured three leading VA Health Services Research & Development Service (VA HSR&D) investigators: Elizabeth Yano, Ph.D., M.S.P.H., Susan Frayne, M.D., M.P.H., and Donna L. Washington, M.D., M.P.H. Learn more...
Recent Dissemination
May and August 2012 Issues of FORUM Now Online
Both the May and August 2012 issues of FORUM are now available online. The May issue of FORUM addresses PTSD treatment and the August issue discusses pain management in VA.
JAMA's Author in the Room Series Features Mary Whooley, MD
Mary Whooley, M.D. was featured as a part of JAMA's monthly "Author in the Room" series June 20. Dr. Whooley discussed her recently published article "Diagnosis and Treatment of Depression in Adults with Comorbid Conditions: A 52-Year-Old Man with Depression." To listen to an archive of the session, or to read the abstract, visit the JAMA Networks website.
Survey Results: Serving Those Who've Served
"Serving Those Who Have Served: Educational Needs of Health Care Providers Working with Military Members, Veterans, and their Families," is a web-based survey of rural and urban mental health and primary care community providers funded by the Office of Rural Health and carried out in partnership with the VISN 6 Mental Illness Research, Education and Clinical Center. A PDF of the survey results is now available online. Learn more…
Veterans with Diabetes Benefit from Peer Monitoring
Judith Long, M.D., core investigator with the HSR&D's Center for Health Equity and Promotion, recently published a study in the Annals of Internal Medicine that showed that African American Veterans with hard-to-control diabetes who were matched with peer mentors made significant gains in keeping their blood sugar in check. The study results were also featured in The New York Times' Well blog on March 22. Learn more…
New ESP Reports Published
HSR&D's Quality Enhancement Research Initiative's (QUERI) Evidence-Based Synthesis Program (ESP) was established to provide timely and accurate syntheses of targeted healthcare topics of particular importance to VA managers and policymakers – and to disseminate these reports throughout VA. The latest reports available online include:
Administrative Notices
October 15 Deadline on Call for Papers for Health Services Research
The journal Health Services Research will be publishing a special supplement on mixed methods in delivery systems. Studies that use mixed methods to generate empirical findings on delivery systems and/or help advance the field of mixed methods research are encouraged. Papers must be submitted no later than October 15, 2012. Learn more...
Leadership Transitions at Several HSR&D Centers
Several HSR&D Centers of Excellence have recently undergone changes in leadership staffing. An overview of these changes is available here; however, for more specific information, please contact the center directly.
Draft Scientific Integrity Policy
The Department of Veterans Affairs and several other federal agencies have drafted a Scientific Integrity Policy. The policy was created at the direction of President Obama, and will serve to foster a culture of transparency, integrity, and ethical behavior, as well as protect researchers from inappropriate influence in the development and application of scientific and technological findings. The draft (and directions for submitting commentary) is now available online.
Learn more about HSR&D investigators who've been honored for their research and professional efforts:
Have you or another HSR&D colleague been recognized with an award or other honor? Let us know. For criteria and submission information, visit our Awards & Honors Notification page.
Find links to studies for which funding began within the last three months.
Looking for published research? The search tools for articles, presentations, citations, and HSR&D internal publications include the following:
For citations from journals, meetings, conferences, and reports that were credited to HSR&D researchers, use the HSR&D citations search feature.
For HSR&D-produced publications and evidence synthesis reports, use the HSR&D publications search feature.
Publication Notification
Please let us know as soon as you have an article accepted for publication. This applies to all publications based on an HSR&D-funded, or HSR&D-managed project, or authored/co-authored by an HSR&D-supported investigator, regardless of funding source.
To submit your notification, please use the VA Intranet-based PubTracker system. Instructions for accessing PubTracker are available on the Publication Notification Requirement page of the For Researchers section on the HSR&D website.
If you have feedback about Research Briefs online, or suggestions for topics of interest about which you'd like to read, please send us an email to: HSRDWeb.Boston@va.gov.