August 24, 2021
HSR&D Investigator Receives AAMC's Nickens Faculty Award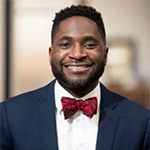 Utibe R. Essien, MD, MPH
Utibe R. Essien, MD, MPH, a core investigator with HSR&D's Center for Health Equity Research and Promotion in Pittsburgh, PA, has received the Association of American Medical College's Medicine's Herbert W. Nickens Faculty Fellowship Award. The award recognizes an outstanding, junior medical college faculty member who demonstrates leadership potential in addressing inequity in medical education and health care; demonstrates efforts in addressing educational, societal, and healthcare needs of racial and ethnic minorities in the United States; and is committed to a career in academic medicine. Awardees receive a $25,000 grant to support a project performed in the United States to support racial and ethnic minorities.
Dr. Essien is a health services researcher, clinical internist, and an Assistant Professor of Medicine at the University of Pittsburgh School of Medicine. His primary research work targets racial and ethnic health disparities with a specific focus on the use of novel therapeutics and technologies, particularly in the management of cardiovascular diseases. He has applied innovative methods to study whether racial or ethnic differences exist in the use of novel anticoagulants in patients with atrial fibrillation, including after controlling for patient-level socioeconomic status factors. Additionally, he has examined the role of social determinants such as food insecurity and housing instability on patients with diabetes, chronic kidney disease, and COVID-19.
Dr. Essien recently received a VA HSR&D Career Development Award to study access to, and quality and equity of anticoagulant use in Veterans with atrial fibrillation. Last year, he was named the Director of University of Pittsburgh's Institute for Clinical Research Education's Career Education and Enhancement for Healthcare Research Diversity Scholars program for medical students, and has also been named one of the of the National Minority Quality Forum's 40 Under 40. In addition, he received the 2021 inaugural Rising Star-Clinical Practitioner Award from the Albert Einstein College of Medicine, and the 2019 American Heart Association Young Investigator Award.