February 26, 2020
HSR&D Investigator Eve Kerr, MD, MPH to Receive John M. Eisenberg Award for Career Achievement in Research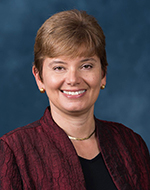 Eve Kerr, MD, MPH
Eve Kerr, MD, MPH, senior investigator with and former director of HSR&D's Center for Clinical Management Research in Ann Arbor, MI, has been named the 2020 recipient of the Society for General Internal Medicine's (SGIM) John M. Eisenberg Award for Career Achievement in Research. Dr. Kerr will receive the award at the upcoming 2020 SGIM Annual Meeting in May.
Dr. Kerr is internationally recognized for developing innovative, clinically meaningful methods for assessing and improving quality of care; evaluating the influence of care processes on quality; and understanding the challenges of providing care to patients with multiple chronic conditions. She was senior author on the landmark article, "The Quality of Health Care Delivered to Adults in the United States," which documents large deficits in U.S. quality of care that significantly influenced VA's efforts to improve healthcare for Veterans. She also helped lead two major studies that demonstrated a significant VA quality advantage over community care, largely related to organizational changes and performance profiling.
Recently, Dr. Kerr has led efforts to inform health system performance in setting priorities for decreasing low-value services. She has published several papers in JAMA Internal Medicine's "Less is More" series describing overuse of tests and treatments in VA and community care. She also is concluding a significant, four-year HSR&D-funded study focused on identifying, measuring, and facilitating opportunities to stop or scale back the use of unnecessary routine clinical services in VA. In 2017, Dr. Kerr received the Under Secretary's Award for Outstanding Achievement in Health Services Research—VA's highest honor for health services researchers.
In addition to conducting research, Dr. Kerr is a staff primary care physician at the VA Ann Arbor Healthcare System, and is the Louis Newburgh Research Professor and Vice Chair for Diversity, Equity, and Well-being at the University of Michigan Department of Internal Medicine. She also is an elected member of the National Academy of Medicine, the Association of American Physicians, the American Society of Clinical Investigation, and a Master of the American College of Physicians. Dr. Kerr is a prolific author, having published over 130 papers in her career.
The SGIM's John M. Eisenberg Award recognizes a senior member whose innovative research has changed the way in which research is conducted, patients are cared for, or students are educated. It is named for the late John M. Eisenberg, MD, MBA, director of the Agency for Healthcare Research and Quality from 1997-2002, and honors his unique role as researcher, mentor, and strong advocate for research in general medicine.