July 20, 2015
Dr. Charles Levy Receives Paul B. Magnuson Award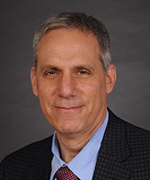 Charles Levy, MD
Charles Levy, MD, Co-Director of HSR&D's Center of Innovation on Disability & Rehabilitation Research (CINDRR), recently received the 2015 Paul B Magnuson Award for Outstanding Achievement in Rehabilitation Research and Development (RR&D). This Award is presented annually to a VA RR&D investigator who exemplifies the entrepreneurship, humanitarianism, and dedication to Veterans displayed by Dr. Magnuson during his career.
Dr. Levy also is the Chief of Physical Medicine and Rehabilitation at the North Florida/South Georgia Veterans Health System, where he leads the effort to care for Veterans with mild traumatic brain injury (mTBI). Dr. Levy has testified before Congress twice: once on tele-rehabilitation, and again on innovative treatments for TBI. Dr. Levy directs the Rural Veterans Tele-Rehabilitation Initiative (funded in part by VA's Office of Rural Health), which uses telehealth to deliver various types of therapy (i.e., psychiatric, physical, occupational, and speech-language) directly to Veterans in their homes and distant clinics. He also leads the "Virtual Environments for Therapeutic Solutions (VETS)" development project (funded by VA RR&D), which is building a virtual grocery store for the assessment and treatment of deficits in cognition and emotional control, characteristic of mTBI and PTSD. His ongoing rehabilitation research interests include the use of simulation, wheeled mobility, telehealth, arts-in-medicine, and integrative medicine to facilitate recovery and community integration.
Considered the highest honor for VA rehabilitation investigators, this award was established in 1998 to honor the life and legacy of Dr. Paul B Magnuson - and to recognize the importance of rehabilitation research within the VA healthcare system. The Award consists of a one-time award of $5,000 to the individual, with $50,000 for up to 3 years to supplement ongoing peer-reviewed research.