July 8, 2019
HSR&D Investigator Walid Gellad, MD, MPH, Named PECASE Recipient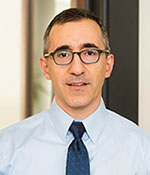 Walid Gellad, MD, MPH
On July 2, 2019, Walid Gellad, MD, MPH, investigator with HSR&D's Center for Health Equity Research and Promotion and a primary care physician at the VA Pittsburgh Healthcare System, was named a recipient of the Presidential Early Career Scientist Award for Scientists and Engineers (PECASE).
Dr. Gellad's research focuses on developing more effective prescribing practices for physicians and Veterans, and on improving the way the VA healthcare system functions. He has conducted long-running research into the risks of dual-use of both VA and Medicare prescription coverage, revealing how many prescriptions are missed for Veterans when only VA coverage is considered. This work contributed significantly to a recent landmark agreement between VA and the Centers for Medicare & Medicaid Services (CMS) that will greatly improve drug safety monitoring of prescriptions, including opioids. The agreement also gives VA the ability to monitor medical prescriptions issued outside VA through Medicare Part D.

In addition to his research and clinical work at VA, Dr. Gellad is a Professor of Medicine and Director of the Center for Pharmaceutical Policy and Prescribing at the University of Pittsburgh, and is considered a national expert on prescription drug pricing and patient medication adherence.
Established in 1996, PECASE is the highest honor bestowed by the U.S. government upon outstanding scientists and engineers beginning their independent careers. The award is given annually by the White House Office of Science and Technology Policy, and recognizes preeminent young scientists and engineers for their innovative research and their "exceptional potential to shape the future through intellectual and inspired leadership."