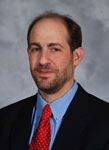 Hayden B. Bosworth, Ph.D., is the recipient of the 2013 Under Secretary's Award.

View the Cyberseminar presentation.
Hayden B. Bosworth, Ph.D., is the recipient of the 2013 Under Secretary's Award for Outstanding Achievement in Health Services Research–the highest honor for a VA health services researcher. Dr. Bosworth is a developmental health psychologist and health services researcher, and has served as Associate Director of HSR&D's Center for Health Services Research in Primary Care, located in Durham, NC, for ten years. Dr. Bosworth has met the major criteria for this award by:
Improving our understanding of factors that affect the health of Veterans and the quality of their care,
Contributing to the future of VA health services research by inspiring and training a new generation of investigators, and
Enhancing the visibility of VA research through national recognition within the research community.
Dr. Bosworth earned his Ph.D. in Philosophy, Human Development and Family Studies from Pennsylvania State University, and completed a Postdoctoral Behavioral Medicine Fellowship at the Duke University Medical Center. An HSR&D Research Career Scientist Awardee, his main research interests comprise three inter-related areas that have significant implications for Veterans: 1) self-management in chronic care, 2) developing and using quality measurements to monitor and improve the processes and outcomes of healthcare, and 3) translating research findings into clinical care. For more than 15 years, he has developed and tested novel interventions to improve the health behaviors and outcomes for patients with chronic diseases that are prevalent among Veterans, including: hypertension, coronary artery disease, hyperlipidemia, diabetes, osteoarthritis, and depression. He is currently the principal investigator on four self-management interventions, and co-investigator on three other funded studies. He also has been a leader in helping to reduce healthcare disparities. Among ten trials he has conducted, there has been a consistent improvement among individuals with low literacy, as well as under-represented groups, such as African American and women Veterans.
In addition, Dr. Bosworth is a tenured Research Professor at the Duke University Medical Center – the first Ph.D. from the Division of General Medicine to be awarded this honor. He also is a health services research lecturer in Duke's Clinical Research Training Program, and has directed the VA Office of Academic Affairs Ph.D. Post-Doctoral Fellowship for 13 years. A highly sought after mentor for Ph.D. and M.D. investigators, fellows, and students, he has mentored 64 trainees. He also is a prolific author, with more than 200 peer-reviewed publications and almost 250 academic presentations.
Dr. Bosworth's research is directly applicable to the healthcare of our Veterans. For example, his innovative approach to improving treatment adherence through telemedicine interventions is helping VA transition to a more patient-centered approach to care through Patient-Aligned Care Teams (PACTs) and other initiatives. For all he has done and continues to do, Dr. Hayden Bosworth is highly deserving of the prestigious Under Secretary's Award for Outstanding Achievement in Health Services Research.