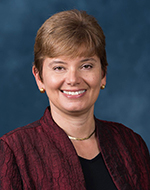 Eve A. Kerr, MD, MPH, is the recipient of the 2016 Under Secretary's Award.
Eve A. Kerr, MD, MPH has earned the 2016 Under Secretary's Award for Outstanding Achievement in Health Services Research – the highest honor for a VA health services researcher. Dr. Kerr has met the major criteria for this award by:
Improving our understanding of factors that affect the health of Veterans and the quality of their care,
Contributing to the future of VA health services research by inspiring and training a new generation of investigators, and
Enhancing the visibility of VA research through national recognition within the research community.
Dr. Kerr is Director of HSR&D's Center for Clinical Management Research (CCMR) in Ann Arbor, MI, which works to implement and evaluate innovations and strategies to make healthcare more patient-centered, efficacious, safer, and cost-effective. She is recognized internationally for developing innovative, clinically meaningful methods to assess and improve quality of care, evaluating the influence of care processes on quality, and understanding the challenges of providing care to patients with multiple chronic conditions. For example, she was senior author on a landmark article, "The Quality of Health Care Delivered to Adults in the United States," that has been cited more than 2,000 times and documents large deficits in U.S. quality of care that significantly influenced VA's efforts to improve healthcare for Veterans. She also helped lead two major studies that demonstrated a significant VA quality advantage over community care, largely related to organizational changes and performance profiling (Kerr et al, 2004 and Asch et al, 2004). Moreover, she led a large VA study to systematically examine potential reasons for "clinical inertia" (failing to act) in hypertension management. The study found that rather than inertia, providers were often confronted with the inherent clinical uncertainty about "true" blood pressure value. As a result of this work, Dr. Kerr and her team developed new "clinical action measures" for blood pressure treatment that are being implemented across the VA healthcare system, and that showed current blood pressure performance measures can motivate inappropriate overtreatment, especially in the elderly.
Currently, Dr. Kerr is leading efforts to inform health system performance in setting priorities for decreasing low-value services. She has published several papers in the JAMA Internal Medicine "Less is More" series describing overuse of tests and treatments in VA and community care; for example, an article on testing before low-risk surgery. She also is conducting several studies on defining and decreasing low-value care, including one that focuses on identifying and implementing measures to stop or scale back use of unnecessary routine clinical services in VA, and another that examines how commitments to following Choosing Wisely recommendations impact the use of targeted services, appropriateness of care, and clinician and patient experiences.
In addition to leading CCMR, conducting research, and being a staff primary care physician at the VA Ann Arbor Healthcare System, Dr. Kerr is a Professor of Internal Medicine at the University of Michigan. She has been a devoted mentor to her students and trainees, many of whom have gone on to stellar careers of their own. Donna Zulman, MD – a current HSR&D career development awardee – said that Dr. Kerr's approach to health services research had a strong influence on her early career: "Eve always encouraged us to pursue research questions that would shape policy and transform health care." Another former mentee and HSR&D career development awardee, Michele Heisler, MD, now a research scientist at CCMR, describes Dr. Kerr as "an inspiring mentor and strong advocate for junior faculty and trainees. Her research has been groundbreaking, but as important for those of us who are her colleagues and mentees is her fierce commitment to service, leadership, and providing value to others."
Dr. Kerr also is a prolific author, with more than 100 peer-reviewed publications, many in top tier journals such as The New England Journal of Medicine and JAMA. She is the Louis Newburgh Research Professor of Internal Medicine at the University of Michigan, immediate past-chair for the American College of Physicians' Performance Measurement Committee, a steering committee member of Choosing Wisely International, and an elected member of the American Society of Clinical Investigation and the Association of American Physicians (AAP).
For her remarkable dedication to improving the health and care of Veterans, Dr. Eve Kerr is highly deserving of the prestigious Under Secretary's Award for Outstanding Achievement in Health Services Research.