2017 Under Secretary's Awardee for Outstanding Achievement in Health Services Research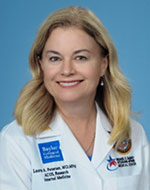 Laura A. Petersen, MD, MPH, FACP
Laura A. Petersen, MD, MPH, FACP, has earned the 2017 Under Secretary's Award for Outstanding Achievement in Health Services Research – the highest honor for a VA health services researcher. Dr. Petersen has met the major criteria for this award by:
Improving our understanding of factors that affect the health of Veterans and the quality of their care,
Contributing to the future of VA health services research by inspiring and training a new generation of investigators, and
Enhancing the visibility of VA research through national recognition within the research community.
Dr. Petersen's research funding includes 48 awards from VA, National Institutes of Health (NIH), Agency for Healthcare Research and Quality (AHRQ), American Heart Association, and the Robert Wood Johnson Foundation, including 29 as principal investigator. Her research targets rigorous evaluations of health policy interventions and how they affect patient outcomes. For example, her studies have addressed the effects of residency work hour limits on patient care (Ann Intern Med 1994), outcomes of VA care compared to fee-for-sevice Medicare (NEJM 2000), the effectiveness of pay for performance (JAMA 2013), as well as the impact of pay for performance on minority patient populations (Health Serv Res 2017).
Improving the quality of VA care is a career-long passion for Dr. Petersen. Currently she leads HSR&D's Center for Innovations in Quality, Effectiveness, and Safety (IQuESt), which is located in Houston, TX and works to improve the health and well-being of Veterans through innovations in healthcare delivery. Dr. Petersen also leads an HSR&D-funded study "Improving the Measurement of VA Facility Performance to Foster a Learning Healthcare System. Study findings are expected to provide valuable data on performance and quality of care across nearly 600 acute care nursing units in 122 VA facilities in reports that will be targeted to clinicians and administrators who can use the information to initiate evidence-based changes in practice. She and her team are also exploring how Medicaid expansion affects dual use of VA services by Veterans and outcomes of their care. Throughout her career as a researcher, Dr. Petersen has worked closely with VA operational leaders to develop research-operations partnerships. This has allowed for valuable collaborations to produce novel insights and evidence that result in improved health care processes, system performance, and clinical outcomes for Veterans.
Dr. Petersen is a prolific author, with more than 150 publications, including articles published in high-impact journals such as The New England Journal of Medicine, Annals of Internal Medicine, and JAMA. Her work has been cited in multiple reports from the National Academy of Medicine and other influential groups. Dr. Petersen also has received a number of awards, including the Society of General Internal Medicine (SGIM) Outstanding Junior Investigator of the Year award. She has been a Robert Wood Johnson Generalist Physician Faculty Scholar and received an HSR&D Career Development Award. In addition, she is an elected member of the Association of American Physicians.
Committed to training the next generation of health services researchers, as Director of IQuESt, Dr. Petersen has made mentoring a priority – committing substantial resources to facilitate the growth of the educational mission and to support the development of a diverse group of trainees and faculty. Nearly 70% of IQuESt faculty are women or under-represented minorities. Dr. Petersen personally models mentoring with five primary faculty mentees, all of whom are independently funded as a principal investigator. She also mentors medical students and fellows.
Dr. Petersen received her MD from Case Western Reserve University and her MPH from Harvard. Board certified in Internal Medicine, Dr. Petersen is Associate Chief of Staff for Research at the Michael E. DeBakey VA Medical Center in Houston, and Professor and Chief of Health Services Research at Baylor College of Medicine.
For her consistent and excellent contributions toward improving the health and care of Veterans, HSR&D is proud to present the Under Secretary's Award for Outstanding Achievement in Health Services Research to Dr. Laura A. Petersen.