2018 Under Secretary's Awardee for Outstanding Achievement in Health Services Research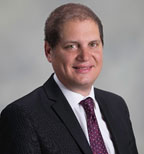 Steven Asch, MD, MPH
Steven Asch, MD, MPH, has earned the 2018 Under Secretary's Award for Outstanding Achievement in Health Services Research – the highest honor for a VA health services researcher. Dr. Asch has met the major criteria for this award by:
Improving our understanding of factors that affect the health of Veterans and the quality of their care,
Contributing to the future of VA health services research by inspiring and training a new generation of investigators, and
Enhancing the visibility of VA research through national recognition within the research community.
A practicing internist with expertise in palliative medicine, Dr. Asch currently leads HSR&D's Center for Innovation to Implementation (Ci2i), which fosters high-value healthcare for Veterans, specifically targeting mental healthcare, medical and surgical specialty care, and care outside VA. In addition, Dr. Asch is a Professor of Medicine and Vice Chief of the Division of Primary Care and Population Health at Stanford University.
Dr. Asch received the Presidential Early Career Award for Scientists and Engineers (PECASE) in 2004, and has been the Principal Investigator or Co-Principal Investigator on 40 funded grants totaling nearly $50 million in direct funds. As part of this work, Dr. Asch applies access/quality measurement techniques and implementation science methods to reduce disparities among vulnerable populations, including those involved in the justice system, or Veterans who have conditions such as HIV, HCV, and/or substance use disorder. For example, his research findings impacted the way VA deploys HIV testing efforts, including:
Universal testing is cost effective, which helped motivate a change to offering the test to everyone, both within and outside VA.
Streamlining the consent process helps get people tested, informing the decision to remove requirements for written informed consent and specialized counselors in VA.
Clinical reminders on testing are effective, leading to near universal use of the reminder across the VA healthcare system.
Centralized implementation of reminders, combined with provider activation and streamlined processes led to doubling of HIV screening rates, which resulted in VA's HIV testing rate remaining higher than the rate for comparable non-Veteran populations.
Dr. Asch has testified on his work before Congressional staff, federal commissions, VA's Under Secretary for Health, and other governmental bodies, and has received national and international media attention (i.e., CNN, NY Times, Washington Post, ABC, NPR, among others). He also is a prolific author, with more than 380 peer-reviewed publications, including in The New England Journal of Medicine, Annals of Internal Medicine, and JAMA. His work has been cited more than 23,000 times. Dr. Asch also co-edits the Journal of General Internal Medicine, helping to guide the health services research published therein to a more applied bent.
In recognition of providing remarkable mentoring across his career, Dr. Asch was HSR&D's 2016 recipient of the Daniel Deykin Award for Outstanding Mentor. As stated by one of his mentees, Dr. Karl Lorenz, a former HSR&D Career Development Awardee, Dr. Asch's "appetite for learning, sharp intellect, ability to communicate clearly, and focus on benefiting his mentees continues to make him a highly sought-after mentor. His skills are reflected in the many trainees who seek him out, and in the academic and other signs of productivity that his mentees have achieved."
For an exceptional career and continued dedication to improving the health and care of Veterans, particularly our most vulnerable, HSR&D is proud to present the Under Secretary's Award for Outstanding Achievement in Health Services Research to Dr. Steven Asch.