Matt Samore, MD, Receives 2019 Under Secretary's Award for Outstanding Achievement in Health Services Research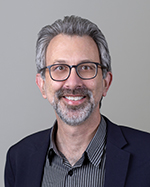 Matthew H. Samore, MD
Matthew H. Samore, MD, has earned the 2019 Under Secretary's Award for Outstanding Achievement in Health Services Research—the highest honor for a VA health services researcher. Dr. Samore has met the major criteria for this award by:
Improving our understanding of factors that affect the health of Veterans and the quality of their care,
Contributing to the future of VA health services research by inspiring and training a new generation of investigators, and
Enhancing the visibility of VA research through national recognition within the research community.
Dr. Samore is Director of the Informatics, Decision-Enhancement, and Analytic Sciences (IDEAS) Center, an HSR&D Center of Innovation, and is a Professor of Medicine and Chief of the Division of Epidemiology at the University of Utah. His novel research and commitment to leadership lie at the intersection of health services, epidemiology, and informatics. His work has resulted in major improvements to Veterans' healthcare, including advances in electronic health record data to improve measurement of prescribing practices and patient outcomes, and system-wide shifts in VA's approach to antibiotic prescribing and antibiotic stewardship.
Dr. Samore's research on antibiotic use and antibiotic resistance has had substantial impact on the health of Veterans through both direct research and his partnerships with national VA program offices. Through epidemiological analysis, he identified a clindamycin-resistant strain of Clostridium difficile that was associated with high rates of transmission and in-facility outbreaks across geographically diverse hospitals. Dr. Samore made the important observation that healthcare workers' hand carriage strongly correlated with environmental contamination. Numerous papers building from this work, including, Identification and Characterization of Failures in Infectious Agent Transmission Precaution Practices in Hospitals: A Qualitative Study (JAMA Internal Medicine, 2018) have since been published.
In addition, Dr. Samore and colleagues' paper, Antibiotic Overuse: Clinicians are the Solution, (Annals of Internal Medicine, 2015) identified clinicians as the key source of variability in antibiotic prescribing, noting the large gap between best practices and actual antibiotic use. The IDEAS group, led by Dr. Samore, collaborated with other VA antibiotic stewardship experts to develop interactive information displays that provide feedback to clinicians and clinics on their antibiotic prescribing practices. This approach was shown to effectively decrease antibiotic overuse in 10 VA primary care settings and was subsequently adopted by VA's Pharmacy Benefits Academic Detailing Service.
Beginning in 2008, Dr. Samore played a key role in two important HSR&D initiatives—as principal investigator for the Consortium for Healthcare Informatics Research (CHIR), and as advisor for the Veterans Informatics and Computing Infrastructure (VINCI). The partnership between VINCI and CHIR led to a major expansion in the development and use of natural language processing (NLP) within VA's data infrastructure. This work produced a number of publications, including The Feasibility of Using Large-Scale Text Mining to Detect Adverse Childhood Experiences in a VA-Treated Population (Journal of Traumatic Stress, 2015).
Dr. Samore has also played an important leadership role in representing and promoting the benefits of collaborating with VA research to the national and international research communities. His many associations with the Centers for Disease Control and Prevention—in the form of grants, cooperative agreements, and contracts—have also contributed to the wider visibility of VA research.
Throughout his career, Dr. Samore has mentored and inspired multiple generations of investigators. Many mentees from his time as a junior faculty member at Harvard are now nationally and internationally recognized for their accomplishments in healthcare epidemiology. At VA and the University of Utah, he has served as primary or secondary mentor for more than 50 students, fellows, and junior faculty. Twenty-one of these individuals are currently affiliate or core investigators with the IDEAS Center.
Dr. Samore was the 2014 recipient of the University of Utah's H.A. and Edna Benning Presidential Endowed Chair, and has published over 300 peer-reviewed publications. He is the principal investigator on multiple grants funded by VA, the National Institutes of Health, the Agency For Healthcare Research and Quality, the Centers for Disease Control and Prevention, and the National Institute of Biomedical Imaging and Bioengineering.
For an exceptional career and continued dedication to improving the health and care of Veterans, HSR&D is proud to present the Under Secretary's Award for Outstanding Achievement in Health Services Research to Dr. Matthew Samore.