Donna L. Washington, MD, MPH, FACP, 2020 Under Secretary's Award for Outstanding Achievement in Health Services Research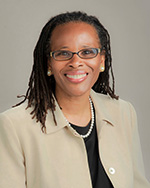 Donna L. Washington, MD, MPH, FACP
Donna L. Washington, MD, MPH, FACP has earned the 2020 Under Secretary's Award for Outstanding Achievement in Health Services Research – the highest honor for a VA health services researcher. She meets the major criteria for this award by:
Improving our understanding of factors that affect the health of Veterans and the quality of their care,
Contributing to the future of VA health services research by inspiring and training a new generation of investigators, and
Enhancing the visibility of VA research through national recognition within the research community.
Dr. Washington has built critically important foundations for our understanding of the health and healthcare needs of the diverse Veterans that VA serves. She has devoted her career to addressing the healthcare needs of vulnerable and underserved populations, particularly racial/ethnic minority and women Veterans.
A general internist and a core investigator with HSR&D's Center for the Study of Healthcare Innovation, Implementation, and Policy (CSHIIP) in Los Angeles, CA, Dr. Washington also leads the Health Equity QUERI Center, which partners with VA's Office of Health Equity (OHE) in using a population health approach to examine health, healthcare quality, experiences, and outcomes of vulnerable Veteran populations across the VA healthcare system. In collaboration with OHE, she was a chief architect of VA's first ever National Veterans Health Equity Report. She has assessed disparities in the effects of COVID-19 among racial/ethnic minorities and other vulnerable groups within VA. This research provided early signals to VA leadership about the devastating impact of the coronavirus 2019 pandemic on racial/ethnic minority Veteran groups. Dr. Washington also has increased awareness of VA health and healthcare equity issues during Congressional briefings and testimony, including:
Over her career, Dr. Washington has worked to advance research methods so that VA can better discern what multilevel factors drive racial-ethnic disparities in quality and mortality by integrating residential characteristics (e.g., poverty) and organizational factors (e.g., how their local VA care was structured, staffed, and managed) into models capable of identifying where the variation actually occurred. Her approaches demonstrate how social determinants of health among racial-ethnic minorities in VA can undermine even our best models of care.
In addition to impactful health equity research, Dr. Washington is even better known for her groundbreaking research on women Veterans. Her first VA research studies focused on access and utilization among women Veterans, yielding novel insights into barriers to care that led to delays and unmet needs. She further examined why women Veterans elected to use VA, how they viewed their Veteran status differently than other groups, and how they relied on informal networks with other women Veterans to learn about VA healthcare offerings. Her research findings contributed to VA's launch of a national call center dedicated to reaching women Veterans, in addition to other advances that help ensure women Veterans are able to access the healthcare benefits they have earned, as well as evidence that led to a revision of VA policy and standards for healthcare delivery for women. Dr. Washington's concern for women at risk extended to women Veterans' high risk for homelessness. She was the first to describe their risk factors and, later, Drs. Washington and Alison Hamilton were the first to delineate the contribution of trauma toward homelessness (article in the top 10 most frequently cited papers in Women's Health Issues). Her work received national research, policy, and media attention (front page of The New York Times) and was used to inform VA homelessness screening approaches.
Dr. Washington is a prolific author, with more than 100 peer-reviewed publications, many in top-tier journals such as the Annals of Internal Medicine, Health Affairs, and the Journal of General Internal Medicine. Dr. Washington's longstanding dedication and productivity, in addition to the impacts of her women Veterans research also led to her receipt of the 2019 Congressional Black Caucus Veterans Braintrust Award. Dr. Washington also received a VA HSR&D Research Career Development Award (CDA), a Robert Wood Johnson Amos Medical Faculty Development Award, and the 2015 Society of General Internal Medicine's Herbert Nickens Award.
Dr. Washington exemplifies the ideal combination of rigorous health services researcher and general internist, with a focus on women's health and health equity. She also is one of those rare physicians who has traversed a robust research career while maintaining clinical care responsibilities and ensuring the training and mentorship of future health services researchers.
HSR&D is very pleased to present the Under Secretary's Award for Outstanding Achievement in Health Services Research to Dr. Donna L. Washington.