2021 Under Secretary's Award for Outstanding Achievement in Health Services Research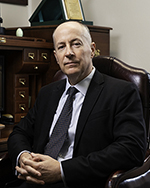 Keith N. Humphreys, PhD
Keith N. Humphreys, PhD, has earned the 2021 Under Secretary's Award for Outstanding Achievement in Health Services Research – the highest honor for a VA health services researcher. He meets the major criteria for this award by:
Improving our understanding of factors that affect the health of Veterans and the quality of their care,
Contributing to the future of VA health services research by inspiring and training a new generation of investigators, and
Enhancing the visibility of VA research through national recognition within the research community.
Over his career, Dr. Humphreys has shed light on several key issues to enhancing VA healthcare, including the possibilities and limitations of applying practice guidelines in everyday clinical practice; how self-help groups for addiction disorders can improve treatment outcomes and reduce healthcare costs; and how innovative research methods can aid in assessing outcomes.
An HSR&D Senior Research Career Scientist and investigator with HSR&D's Center for Innovation to Implementation (Ci2i) in Palo Alto, CA, Dr. Humphreys conducts research on treatments for substance use and psychiatric disorders. His primary research objective is to evaluate access to and outcomes of treatments and self-help groups for addictive disorders. This is important because 1 in 6 adult deaths in the developed world is at least partly attributable to the use of tobacco, alcohol, or other substances. Moreover, among members of the military, a single addiction (i.e., tobacco use disorder) accounts for more lifetime mortality than warfare. An example of his research – a multi-site HSR&D-funded study – found that adherence to clinical trial-derived practice guidelines under "real-world conditions" predicts significant drops in the use of heroin. Recent studies led by Dr. Humphreys show that self-help groups reduce VA and non-VA patients' risk of relapse after addiction treatment. Another important research objective of his is to evaluate and implement effective policies and systems of mental health services, and to improve methods for studying psychiatric interventions.
In addition to conducting impactful research, Dr. Humphreys has mentored many junior health services researchers over the past 25 years, including several VA Career Development Awardees. Through his leadership of Stanford University's NeuroChoice Initiative, he also was able to direct $300,000 in grant funds to VA addiction investigators from diverse backgrounds. Beyond his research and mentoring, he has served as a member of Substance Abuse and Mental Health Services Administration's (SAMHSA) National Advisory Council. He has also appeared before Congress several times regarding the opioid epidemic and drug addiction, and he advises several states on strategies for responding to addiction.
Dr. Humphreys is a prolific author, with more than 350 peer-reviewed publications, many in top-tier journals such as The New England Journal of Medicine, JAMA, and The Lancet. He serves as Chair of the Stanford-Lancet Commission on the North American Opioid Crisis, which was formed to respond to the opioid crisis in the US and Canada. Dr. Humphreys is an internationally-recognized scholar in the fields of addictive disorders and healthcare evaluation; he has presented in 28 countries on 6 continents and has been an advisor on drug policy issues to both the British Government and the World Health Organization. He also is the inaugural holder of an endowed chair at Stanford Medicine, the Esther Ting Memorial Professorship in addiction medicine.
Dr. Humphreys is from a "family of Veterans, including several whose lives were saved by the care they received in our system." HSR&D is proud to present the Under Secretary's Award for Outstanding Achievement in Health Services Research to Keith N. Humphreys, PhD.