April 29, 2015
Donna Washington, M.D., M.P.H., Named SGIM's 2015 Nickens Awardee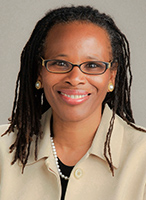 Donna Washington, MD, MPH
Dr. Donna Washington, core investigator at HSR&D's Center for the Study of Healthcare Innovation, Implementation and Policy (CSHIIP) in Sepulveda, CA, and Professor of Medicine at UCLA, has received the Society for General Internal Medicine's (SGIM) 2015 Herbert W. Nickens Award. This Award recognizes exceptional commitment to cultural diversity in medicine and improving minority health. As a physician and health services researcher, Dr. Washington has devoted her career to addressing the healthcare needs of vulnerable and under-served populations, particularly women Veterans.
Dr. Washington has made significant contributions toward advancing research into women Veterans' health, including through her role on the Steering Committee for the VA Women's Health Research Network, which was developed to promote and facilitate VA research on women's health. Dr. Washington also served as lead investigator on the National Survey of Women Veterans, which surveyed a large national sample of women Veterans in order to support VA evidence-based strategic planning for programs and services for this population. Dr. Washington's numerous publications and studies have focused on a variety of aspects of women Veterans' health, including the role of military social support in understanding the relationship between PTSD, physical health, and healthcare utilization; barriers to care for women Veterans with PTSD and depression; and factors that influence women Veterans in choosing to use VA care.
SGIM's Nickens Award is named in honor of the late Dr. Herbert W. Nickens, former Director of the Office of Minority Health, United States Department of Health and Human Services, and the first Vice President and Director of the American Association of Medical Colleges' Division of Community and Minority Programs. SGIM is a national medical society of 3,000 physicians who are the primary internal medicine faculty of every medical school and major teaching hospital in the United States.