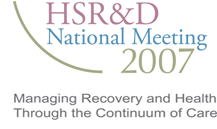 3060 — Family Contact, Experience of Family Relationships, and Views about Family Involvement in Treatment among VA Consumers with Serious Mental Illness
Murray-Swank AB (VISN 5 MIRECC) , Glynn S (VISN 22 MIRECC), Cohen AN (VISN 22 MIRECC), Medoff DP (University of Maryland School of Medicine), Fang L (University of Maryland School of Medicine ), Forbes C (University of Maryland at College Park), Dixon LB (VISN 5 MIRECC)

Objectives:
Family psychoeducation is a highly effective, but grossly underutilized, evidence-based practice in the treatment of serious mental illnesses (SMI). To better understand how to implement family services in the VA, this study examined veterans' views about family relationships and family participation in treatment. The objectives of the study were to: (1) identify patterns of family support and distress; (2) characterize veterans' preferences with regard to family participation in their treatment; (3) identify barriers to family participation in treatment.
Methods:
This was a cross-sectional study which included 69 veterans with schizophrenia (75%) or an affective psychosis (25%). The sample was 65% African-American with a mean age of 49.5 years. Most (81%) had local family, and 30% were currently living with family. Participants completed standardized research interviews about their family relationships and views about family participation in their mental health treatment.
Results:
Younger consumers and those with higher levels of psychiatric symptoms were significantly more likely to report family conflict and distress. Sixty seven percent of participants expressed a desire for family participation in their psychiatric treatment, and those with at least weekly contact with family were more likely to desire family participation in their mental health treatment. Veterans endorsed a range of barriers to family participation in their mental health treatment, with the most common being their own worries about burdening family (58%), privacy concerns (49%), and skepticism that family involvement would be helpful (43%). Racial differences emerged, such that African-American participants, as compared with Caucasians, were more likely to state that their family would be hesitant to come to a mental health care facility.
Implications:
A majority of veterans expressed a preference for family to participate in their treatment, but identified important concerns they would have about such participation. It is critical to address these concerns to promote optimal, evidence-based services which involve family members in the treatment of veterans with SMI.
Impacts:
As recognized in the recent VA Mental Health Strategic Plan, family participation is a critical element of high-quality, recovery-oriented treatment for veterans with SMI. Our study identifies key factors which may facilitate or interfere with effective implementation of family-based services.