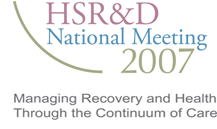 1068 — Cost Savings Associated with Guideline-Consistent Depression Treatment in Diabetes
Tiwari A (REAP-East Orange) , Kashner MT (Department of Psychiatry at the University of Texas Southwestern Medical Center, Dallas), Olfson M (Department of Psychiatry, Columbia University, NY State Psychiatric Institute), Rajan M (REAP-East Orange), Pogach L (REAP-East Orange), Sambamoorthi U (REAP-East Orange)

Objectives:
To estimate average healthcare expenditures associated with guideline-consistent antidepressant treatment of depression among veterans with diabetes after controlling for demographic, socioeconomic, health status, diabetes medications, and intermediate diabetes outcomes.
Methods:
Retrospective analysis of Veterans Health Administration (VHA) and Medicare claims of VHA clinic users with diabetes and depression. Depressive disorders were identified using ICD-9-CM codes of 296.2, 296.3, 309.1, 300.4, and 311. Incident episode of depression was identified using 120-day (4-month) "negative diagnosis and medication history" on or before the first observed depression diagnosis date in FY 1999. Guideline-consistent depression treatment was defined as the receipt of antidepressants for at least 90 days after the onset of depression, within a period of 6 months. Mixed effects models were used to analyze the association between patterns of guideline-consistent antidepressant treatment and expenditures. Monthly expenditures were calculated for each of the 6 months prior, during, and after depression treatment episode. VHA inpatient and outpatient expenditures were derived from the average cost estimates from Health Economics Resource Center (HERC) average Cost files. Pharmaceutical expenditures were derived from PBM files. Medicare expenditures were calculated from paid claims. Other independent variables included time, time interaction with antidepressant treatment, demographic, socioeconomic, health status, diabetes medications, and intermediate diabetes outcomes.
Results:
Of the 7,539 VHA clinic users with diabetes and incident depression between April 1, 1999 and September 30, 1999, 50% received antidepressant treatment; of these 61% received guideline-consistent treatment. Inpatient expenditures during the 6 months of depression treatment episode were $3,958, $4,996, and $5,259 for those with and without guideline-consistent treatment and no treatment, respectively. Even after controlling for clustering and other independent variables, those who received guideline-consistent antidepressant treatment had lower costs compared to those without any antidepressant treatment for depression. Most of the cost reductions were due to decreased inpatient expenditures.
Implications:
Individuals with guideline-consistent depression treatment have reduced expenditures compared to those without any treatment for incident depression.
Impacts:
Aggressive efforts need to be made to promote guideline consistent antidepressant treatment for depression among those with chronic illness such as diabetes to improve clinical outcomes and capture cost savings.