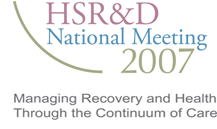 3055 — Usage and Perceptions of ATHENA-Hypertension Decision-Support System by Primary Care Physicians
Michel MC (Palo Alto VA CHCE) , Martins SB (Palo Alto VA GRECC), Lin ND (Palo Alto VA GRECC/ Stanford), Kirby A (Palo Alto VA GRECC), Steinman M (San Francisco VA / UCSF), Hoffman B (Boston VA), Bosworth H (Durham VA), Oddone E (Durham VA), Fischer M (University of Massachusetts), Goldstein MK (Palo Alto VA GRECC/ Stanford)


Objectives:
ATHENA-Hypertension, an automated decision support system (DSS), provides patient-specific recommendations to primary care physicians at the point of care. Prior studies show interaction with clinical DSS has been low. The objective of this study was to evaluate clinician perceptions and interaction with ATHENA.
Methods:
ATHENA-Hypertension was implemented in a three-center trial for 15 months (VAMCs Durham, San Francisco, and Palo Alto). The experimental group received ATHENA advisories about managing their patients' hypertension; the control group received pop-up reminders of the patients' hypertension. For each visit at which the ATHENA Advisory was displayed, data were collected on the type of interaction (e.g., updated ATHENA advisory, access patient history). We categorized each interaction as primary (e.g., updated ATHENA advisory or viewed recommendations) or secondary (e.g., information-seeking behaviors). At the end of the trial, experimental-group clinicians were sent a survey that included questions about usability and navigation of ATHENA. We describe clinicians' actual interactions with the ATHENA Advisory and their self-reported use and perceptions of ATHENA.
Results:
Overall, the interaction rate was 52% in the experimental group (10,739 interactions / 20,524 displayed Advisories) and 16.5% in the controls (3694 interactions / 22,301 hypertension reminders) (p<0.001). Among visits where experimental-group clinicians interacted with the ATHENA Advisory, the most frequent types included providing feedback (49% of visits), seeking information (27%), and updating the Advisory (24%). Of experimental-group respondents to the survey (n=44), we asked how ATHENA integrated into their overall clinical workflow: 7% reported poor, 41% fair, 41% good, and 11% excellent integration. Eighty percent reported good or excellent ease of navigation in finding information. Sixty-four percent reported they updated the ATHENA advisory occasionally or often. Respondents who reported they updated the advisory occasionally or often, actually updated 22% compared with 15% who said they seldom or never updated the advisory.
Implications:
Providers were satisfied with the ease of finding information and the usability of the ATHENA advisory, as demonstrated by their high interaction rate. Providers tend to interact with the primary layers of the advisory.
Impacts:
Clinical DSS should provide excellent usability at the primary layers to encourage clinician interaction.