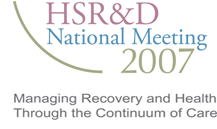 3040 — Participation of VA Physicians and Non-Physician Primary Care Providers in an Internet Delivered Educational Intervention: The MI Plus Study
Houston TK (Birmingham REAP) , Funkhouser E (Birmingham REAP), Tipton EF (Birmingham REAP), Levine DA (Birmingham REAP), Estrada C (Birmingham REAP), Kiefe CI (Birmingham REAP)

Objectives:
MI Plus is a randomized, controlled trial of an Internet-delivered intervention to improve treatment of ambulatory post–myocardial infarction (MI) patients with multiple co-morbidities. We recruited VA providers from Community Based Outpatient Clinics (CBOCs) across the nation. This report compares Physicians (MD) with non-Physicians (non-MDs), and among the latter, Physician Assistants (PA) with Nurse Practictioners (NP), regarding rates of enrollment and intensity of participation.
Methods:
We recruited CBOC providers by phone and fax using no incentives other than CME. The intervention group is receiving a 30-month Internet-based educational program consisting of: 1) quarterly interactive cases on management of complex post-MI patients, 2) literature updates and 3) a "toolbox" with practice guidelines, treatment algorithms, and patient educational materials. We analyzed provider usage information and intensity of participation obtained electronically from the website.
Results:
Out of a pool of 699 VA MDs, 81 PAs, and 187 NPs, a higher proportion of non-MDs than MDs enrolled (50.4% vs 34.3%, p<0.001). This difference was present in all sizes of CBOCs, but not in all geographic regions. There was no overall difference between PAs (46.9%) and NPs (51.9%) in enrollment (p=0.5), though in small CBOCs, a higher proportion of NPs than PAs (64.9% vs 33.3%, p=0.03) enrolled. Among providers in the intervention group (125 MDs and 68 non-MDs), there were no significant differences between MDs and non-MDs in any measure of intensity of participation, namely, number of website visits, case modules completed, or months between first and last visit. Among intervention arm non-MDs (19 PAs and 49 NPs), 36.8% of PAs vs. 14.3% of NPs (p=0.05) completed 7 of the 8 cases, or were active for over a month (94.7% vs 55.1%, p=0.002).
Implications:
Non-MDs had higher enrollment in an internet-based educational intervention than MDs, though the two groups were similar in the intensity in which they used the website; PAs seemed to participate more than NPs.
Impacts:
Internet-based educational interventions appear very attractive to CBOC non-MD providers, with half of those invited enrolling, and may succeed in enhancing their engagement in evidence-based care.