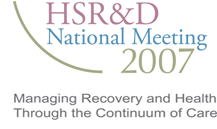 3076 — Risk for Diabetes Mellitus in Minorities Treated with Second Generation Antipsychotic Medications
Salas M (REAP - Birmingham and Division of Preventive Medicine, University of Alabama at Birmingham) , Safford M (REAP - Birmingham and Division of Preventive Medicine, University of Alabama at Birmingham), Kiefe C (REAP - Birmingham and Division of Preventive Medicine, University of Alabama at Birmingham), Williams D (Division of Preventive Medicine, University of Alabama at Birmingham), Davis L (REAP - Birmingham and Division of Preventive Medicine, University of Alabama at Birmingham), Kim Y (Division of Preventive Medicine, University of Alabama at Birmingham), Dahl D (REAP - Birmingham and Department of Psychiatry, University of Alabama at Birmingham)

Objectives:
Minorities suffer disproportionately from type 2 diabetes and its complications. Psychotropic medications, particularly second generation antipsychotics, have been associated with adverse metabolic effects. However, the risk for diabetes in minorities who use antipsychotic medications has not been reported. We estimated the diabetes risk in minority and Caucasian patients treated with second generation antipsychotics compared with those on conventional antipsychotics.
Methods:
We used the VA DSS National Data Extracts from FY2002 to identify individuals with at least two antipsychotic drug fills; a diagnosis of schizophrenia (>=1 outpatient encounters with ICD-9 codes 295.00-295.99); but no diagnosis of diabetes (ICD-9 250.xx).The follow-up window was FY2003-5. We used proportional hazards regression to test the association between antipsychotic use and diabetes, controlling for covariates including adherence as reflected in the medication possession ratio. Users who left the system prior to 2005 were censored. All p-values were two-tailed (alpha= 0.05).
Results:
There were 56,917 patients with mean age 56 ± 11 years, 94% male, 58% Caucasians, 28% African Americans, 8% Hispanics, and 6% of other race/ethnicity; 67% of the cohort was on second generation antipsychotics, 12% on conventional antipsychotics, and 21% on both. Nine percent of the cohort (N=5,314) had recognized diabetes; 31% were African Americans, 55% Caucasians, 8% Hispanics, and 6% of other race/ethnicity (p<0.001 for differences across races). Compared to Caucasians, African Americans on second generation antipsychotics had a hazard of recognized incident diabetes of 1.30 (95%CI=1.22-1.39) and the hazard for Hispanics was 1.32 (95%CI=1.20-1.47). Compared to conventional antipsychotics, patients on second generation antipsychotics had a hazard of 1.37 (95%CI 1.26-1.48). For patients receiving both second generation and conventional antipsychotics, the hazard was 1.33 (95%CI 1.21-1.46) compared to those on conventional antipsychotic medications only.
Implications:
African Americans and Hispanics treated with second generation antipsychotics had higher risk of developing recognized diabetes than Caucasians.
Impacts:
The use of second generation antipsychotics places all veterans, but especially African-American and Hispanic veterans at increased risk of diabetes. The choice of second generation vs. conventional antipsychotics needs to be supported by a careful balance of the evidence, including the increased risk of diabetes in minorities.