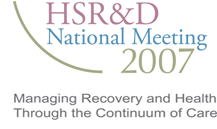 3063 — Telephone Based Referral-Care Management Treatment Outcomes
Zanjani F (VISN 4 MIRECC) , Miller B (VISN 4 MIRECC), Turiano NA (VISN 4 MIRECC), Ross JT (VISN 4 MIRECC), Eakin AC (VISN 4 MIRECC), Gerlach LB (VISN 4 MIRECC), Beswick CE (VISN 4 MIRECC), Oslin DW (VISN 4 MIRECC)

Objectives:
Telephone Based Referral Care Management (TBR-CM) is a study designed to improve engagement in mental health/substance care (MH/SA) by implementing a brief telephone-based motivational session. The aim of this investigation is to compare 6-month MH/SA behavioral treatment attendance rates between the treatment and treatment-as-usual group.
Methods:
During September 2005—May 2006, a total of N=169 patients of Philadelphia Veterans Medical Center completed a psychiatric diagnostic interview at the Behavioral Health Lab and were identified as in need of an MH/SA appointment. From this total number of eligible subjects, N= 42 (24%) refused the study and N=14 (8%) refused to accept a MH/SA appointment. The remaining N=113 (67%) were randomized into either usual or TBR-CM care. Usual care consisted of the patient getting an appointment mailed to them with contact numbers for any problems. TBR-CM consisted of the patient participating in one or more brief telephone interventions designed to increase engagement in MH/SA treatment.
Results:
Participants were primarily African American, ranging in age between 22-83 years, and their diagnostic distribution was: 39% depression, 39% substance abuse, and 22% co-occurring depression and substance abuse. Results indicate positive intervention effects on improving MH/SA treatment initiation (p=.0056); 73% of subjects in the intervention vs. 45% of subjects in control group engaged in at least one MH/SA treatment appointment within 6-months of randomization. When examining total number of MH/SA Behavioral Appointments, a statistical trend (p=.0624) indicated that the intervention group had attended more appointments (2.47) compared to the control group (1.58). Further analyses showed no age or diagnostic categorization effects on treatment attendance.
Implications:
Telephone Based Referral Care Management intervention program shows the ability to considerably improve rates of MH/SA behavioral treatment engagement. These effects are not mitigated by individual age or diagnosis factors.
Impacts:
A brief-motivational session can effectively improve the likelihood that an individual presenting with depression and or substance abuse symptoms will receive necessary care.