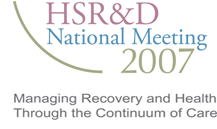 1001 — Improving Interdisciplinary Care Delivery: A Qualitative Case Comparison Study
Bikson KL (UCLA) , Lorenz KA (COE Sepulveda)

Objectives:
Because interdisciplinary management is a key feature of chronic illness care, we set out to describe and qualitatively compare the implementation of palliative care programs at 3 hospital sites (VA, non-profit managed care, University-based); identify environmental, technological, and process factors related to program implementation; and understand barriers and facilitators to implementing interdisciplinary palliative care.
Methods:
Semi-structured in-person interviews were conducted with key players at each site (physicians, nurses, social workers, administrators, and executives). Qualitative data analyses used an iterative, grounded theory approach, coding for themes within and across cases. Variations in programs were compared and generalized back to theorized relationships with the service technology (interdisciplinary palliative care), organizational environment (healthcare system), and implementation process factors.
Results:
With respect to implementing interdisciplinary care, barriers include service technology factors: emerging discipline, staffing deficits, disciplinary tension, stigma, and lack of authority/accountability; and organizational factors: culture, knowledge deficits, difficulty communicating, funding, liability fear, and staff resistance. Facilitators include organizational factors: informal communication networks, executive support, and innovation champion; and implementation process factors: undisputed need for program, demonstration effects, and technical assistance. A palliative nurse practitioner described this interdisciplinary tension: "Doctors ignore social workers… They don't acknowledge the fact that after the patient died the social worker spent three hours consoling the 25 family members that were sprawled on the floor or pounding their head against the wall." A palliative physician describes multiple barriers: "Physician fear of litigation… wanting to please your patient…You really hate to say, 'I'm terribly sorry, it just isn't working…' I was never taught to say, 'Look, I understand you want x, y, and z. Ethically, I simply can't provide it to you, because not only is it not beneficial to you, but there's a very high risk it's going to make you suffer.'"
Implications:
Different disciplines often lack understanding of each others' scope of practice and how to collaborate effectively. Interdisciplinary palliative care presents an inherent conflict for healthcare which is a highly formalized, hierarchical, and disciplinary environment.
Impacts:
Developing systems of shared accountability, rewards, and penalties as well as structured communication protocols may advance interdisciplinary teamwork and effective chronic illness care.