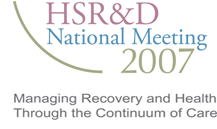 3065 — Risks of Incident Disability and Death in Older Veterans and Non-Veterans
Penrod JD (James J. Peters VAMC) , Dellenbaugh C (James J. Peters VAMC), Doucette J (Department of Community and Preventive Medicine, Mount Sinai School of Medicine), Federman A (Department of Medicine, Mount Sinai School of Medicine), Hebert P (Department of Health Policy, Mount Sinai School of Medicine), Zhu CW (James J. Peters VAMC), Siu AL (James J. Peters VAMC)

Objectives:
To examine predictors of incident, (i.e. new onset) disability and death in older Medicare beneficiaries including veterans and non-veterans.
Methods:
We merged data from the 1996-2003 Medicare Current Beneficiary Survey (MCBS) with the VA National Patient Care Database (NPCD) to identify 14,495 male MCBS participants age 65 and older with no disability (difficulty with any of six activities of daily living [ADLs]) on entry to MCBS. Our outcomes were death and incident disability any time after entry in the MCBS. We estimated discrete time hazard models with follow up from 1 to 3 years, adjusting for baseline age, race/ethnicity, education, income, secondary insurance, self-reported health, smoking, comorbid conditions, instrumental ADLs, and veteran status.
Results:
The sample included 4578 (31%) veterans. There were no significant differences in risk of death or disability between veterans and non-veterans. We then used the VA NPCD to further categorize veterans as: not enrolled in the VHA (21% of the sample), enrolled in the VHA but not using VHA services (7%), and enrolled in and using VHA services (4%) at entry into the MCBS. Compared to non-veterans, the odds of dying for non-enrolled veterans were 35% higher (p=.005) and the odds of dying for enrolled veteran non-users were 46% lower (p<.0001). The odds of dying were not significantly different for enrolled veteran users compared to non-veterans. Compared to non-veterans, the odds of incident disability for enrolled veteran users were 49% higher (p = .001), but were not significantly different for non-enrolled veterans and enrolled veteran non-users. Participants who were older, smokers, with more comorbidities, higher baseline instrumental ADLs, and with self-rated health less than excellent were more likely to die and to develop incident disability.
Implications:
The results suggest different death and disability risks for sub-groups of the elderly veteran population.
Impacts:
Incident disability is associated with increased health service use and may trigger differential use of VHA and Medicare services by enrolled veterans. Understanding differences in risks of death and disability in sub-groups of the veteran population has the potential to inform VHA strategic planning.