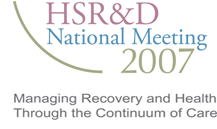 1040 — Impact of a Decision Support System for Hypertension Management (ATHENA-HTN) on New Thiazide Use among Patients with Uncomplicated Hypertension
Lin ND (GRECC, VA Palo Alto Health Care System & Stanford University) , Martins SB (GRECC, VA Palo Alto Health Care System), Michel M (CHCE, VA Palo Alto Health Care System), Kirby A (GRECC, VA Palo Alto Health Care System), Chan AS (Palo Alto Medical Foundation), Fischer M (University of Massachusetts), Steinman M (San Francisco VA Medical Center), Bosworth HB (Durham VA Medical Center), Goldstein MK (GRECC, VA Palo Alto Health Care System & Stanford University), for the ATHENA Investigators


Objectives:
Despite evidence-based guidelines which favor thiazide diuretics, use of these drugs remains low. We evaluated the impact of a point-of-care decision support system (ATHENA-HTN) on initiation of thiazides among patients with uncomplicated hypertension.
Methods:
This is a secondary analysis of data from the ATHENA Multi-Site Trial. Primary care clinicians at nine sites within the Durham, Palo Alto, and San Francisco VA Health Care Systems participated in a 15-month randomized trial to assess the effect of ATHENA-HTN on guideline concordance and blood pressures (BP). The experimental group received ATHENA advisories with patient-specific recommendations at the point of care; the control group received a reminder of the patient's hypertension based on the patient's prior clinic BP value. We included patients with uncomplicated hypertension who were on 1+ antihypertensive medications, had no strong contraindication to thiazides (i.e., no diagnosis for complicated gout, most recent K+>=3.5, and most recent Na+>125), were not on furosemide, and were not prescribed thiazides at baseline. Clinicians randomized to ATHENA-HTN could potentially receive recommendations to initiate or substitute in thiazides to manage these patients. Logistic regression and generalized estimating equations (GEE) were used to model the association between intervention status and two measures of new thiazide use: (1) record of a new prescription during the trial ("ever-initiated") and (2) record of an active prescription at 15 months.
Results:
Sixty-three percent (4120/6580) of patients with uncomplicated hypertension were not prescribed thiazides at baseline. Among this sample, patients of clinicians randomized to ATHENA-HTN were more likely to ever-initiate thiazides during the trial compared to control (21% vs. 13%) and were also more likely to have an active prescription at trial end (19% vs. 11%). GEE models, with adjustment for medical center, yielded similar results (ATHENA vs. control ever-initiation of thiazides OR: 1.5, 95% CI: 1.1, 2.1; active prescription at trial end OR: 1.6, 95% CI: 1.1, 2.2).
Implications:
ATHENA-HTN was associated with increased thiazide use among patients with uncomplicated hypertension.
Impacts:
A new VA national performance measure for diuretic use is planned for FY 2007. Decision support systems may provide one approach to improving guideline-concordant usage.