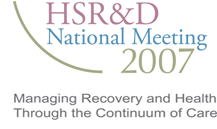 3013 — PTSD: A Risk Factor for Comorbid Medical Conditions in Women Veterans?
Chiu VY (COE Palo Alto) , Phibbs CS (HERC Palo Alto), Yu W (HERC Palo Alto), Yano EM (COE Sepulveda), Ananth L (HERC Palo Alto), Iqbal S (VAPAHCS), Thrailkill A (VAPAHCS), Frayne SM (COE Palo Alto)

Objectives:
The clinical presentation of posttraumatic stress disorder (PTSD) in the growing women veteran population is important to understand, given PTSD's higher prevalence in women. To provide comprehensive care to this population, adequate mental care and medical care are needed. We characterized the prevalence of medical conditions in women veterans with a PTSD diagnosis compared to women veterans without mental illness.
Methods:
For all 44,017 women veterans who were regular users of VHA nationally (3+ VHA primary care encounters in FY2002) we identified clinical conditions (from ICD9 codes in VHA administrative data) using a modified version of AHRQ's Clinical Classifications Software. Using logistic regression, we determined age-adjusted odds ratio (AOR) and 95% CI of having medical conditions for those with PTSD versus those without mental illness.
Results:
Women with PTSD (N=7,238) were diagnosed with any medical condition at a higher rate than women without mental illness (AOR 2.0, [1.8-2.1]). Lifestyle-related conditions were more common in women with PTSD (COPD AOR 2.1, [1.9-2.4]; hepatitis C AOR 3.5 [3.0-4.1]), as were chronic pain conditions (lower back pain AOR 2.1 [2.0-2.2]; arthritis AOR 1.4 [1.4-1.5]; headache AOR 1.7 [1.6-1.8]), gynecologic conditions (pelvic inflammatory diseases AOR 1.3 [1.1-1.4]; menstrual disorders AOR 1.4 [1.3-1.5]), and cardiovascular disease (ischemic heart disease AOR 1.4 [1.3-1.6]; stroke AOR 1.5 [1.1-1.9]).
Implications:
Women with PTSD had an increased burden of medical illness across a wide range of conditions. This difference is especially marked for lifestyle-related conditions, chronic pain conditions, gynecologic conditions, and cardiovascular disease.
Impacts:
To provide high quality care for women veterans with PTSD, their excess burden of comorbid medical conditions must be taken into account to ensure that adequate resources are applied to their care and appropriate clinical services are available. Services for high risk health behaviors, pain management, gender-specific conditions, and cardiovascular preventive health should be emphasized. Mechanisms for the associations between specific medical conditions and PTSD should be explored, as they may point to promising interventions such as behaviorally-based services or interdisciplinary systems of care. Conversely, clinicians caring for women veterans with a heavy burden of medical illness should consider the possibility of PTSD.