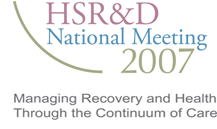 3058 — Veterans' Satisfaction with the CWT Program: Results from a Contingency Management Study
Mueller LN (Bedford VA Medical Center) , Drebing CE (Bedford VA Medical Center), Van Ormer EA (Bedford VA Medical Center), Hebert M (Bedford VA Medical Center), Penk W (Bedford VA Medical Center), Petry NM (UCONN Health Center), Rosenheck R (Yale School of Medicine), Rounsaville B (Yale School of Medicine)

Objectives:
The purpose of this satisfaction survey was to gather information on veterans' perceptions of the impact of CWT services as usual and the additional employment services provided through a contingency management study on assistance to find a competitive job.
Methods:
Veterans (N = 101) were randomly assigned to CWT plus incentives or CWT as usual (control condition). Participants in the experimental group were offered incentives for staying clean and sober. In addition, all veterans were offered weekly one hour sessions of job search assistance with an employment specialist (ES) for 16 weeks, but only veterans in the experimental condition were offered incentives for completing job search tasks and for getting and keeping a competitive job. Follow-ups were conducted at three, six, and nine months which included a satisfaction questionnaire.
Results:
During the first three months when the majority of incentives were available, veterans in the experimental group reported double the number of significant one-on-one meetings with the Employment Specialist (ES) as meetings with their Vocational Rehabilitation Specialist (VRS) in CWT. No difference was found in number of meetings for the control group with a VRS or ES. No difference between the experimental and control group was found for the number of meetings with a VRS. There were no differences in veterans' ratings of helpfulness of VRS and ES meetings, however, veterans reported that VRS meetings provided feedback on work performance, while ES meetings addressed the topic of finding competitive employment. For veterans who obtained competitive employment in this study, 58% stated that they obtained the job on their own, with very few veterans citing friends, family, or CWT staff as the most helpful in finding CE. In addition, when asked how helpful CWT was in finding CE, 71% stated 'not at all helpful.' Themes from veteran responses to open ended questions about aspects of CWT are also presented in light of the quantitative findings.
Implications:
Veterans who had the opportunity to earn incentives from job search tasks attended more meetings with employment specialists. Results also suggest that while VRS meetings are helpful in many ways, veterans perceive and experience that finding CE is solely their responsibility and that assistance with this goal is outside the role of the VRS.
Impacts:
Together with the original findings of this study by Drebing et al. (in press), the data from the satisfaction survey suggests that incentives encourage veterans to meet with staff who are specifically assigned to help them find employment. In addition, the responses of the veterans also suggest that the role of VRS staff in transitional employment programs may need to be further examined. As supported employment is added to more CWT sites, it may be helpful for employment specialists and VRSs to clarify their roles, and for veterans to be informed about the different types of assistance offered.