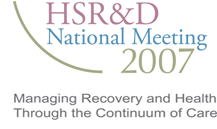 1020 — Developing a Computer Adaptive Measure of Functional Cognition for TBI: Conceptualizing Functional Cognition across the Continuum of Care
Donovan NJ (VA HSR&D/RR&D Rehabilitation Outcomes Research Center) , Velozo CA (VA HSR&D/RR&D Rehabilitation Outcomes Research Center), Heaton SC (University of Florida), Coster W (Boston University), Waid-Ebbs K (University of Florida), Wen PS (University of Florida), Kimberg C (University of Florida), Piantieri S (University of Florida)

Objectives:
To describe the methodology used during development of a Computerized Adaptive Measure of Functional Cognition for TBI to conceptualize functional cognition and develop item pools across the continuum of care. To date, 59% of injured OEF/OIF military personnel have suffered at least a mild traumatic brain injury (TBI). Cognitive deficits from TBI may impact on a survivor's ability to return to a previous level of functioning and/or significantly reduce the quality of life for survivors and caregivers. Accurate evaluation of cognitive functioning is critical for directing rehabilitation and evaluating treatment effectiveness. Two cognitive assessment approaches used in TBI have limitations; neuropsychological assessments were not designed to identify the impact of cognitive deficits in everyday life; and functional assessments contain few, if any, cognitive items. Computerized Adaptive testing allows each individual taking a test to receive only those questions from the calibrated item bank that are most relevant (i.e., 5-15 questions per construct).
Methods:
Domains of functional cognition were conceptualized based on literature review, input from experienced clinicians, and input from an expert advisory panel. Item pools were generated within domains based on theoretical item difficulty hierarchies across the continuum of care. Focus groups were used to modify items prior to field testing.
Results:
Six cognitive domains included: attention, memory, processing speed, executive function, social communication, and emotional management. 261 items were created based on stages of recovery within the continuum of care: acute hospitalization, inpatient rehabilitation, outpatient rehabilitation, and one-year post injury. Input from focus groups (N=61, 9 patients, 16 caregivers, and 36 healthcare providers) resulted in 52 item changes, including rephrasing, narrowing/broadening content, adding/modifying descriptive examples, and defining functional cognition by observable behaviors.
Implications:
Conceptualizing functional cognitive domains and developing item pools based on theoretically and clinically meaningful item difficulty hierarchies, along with obtaining input into the phenomenon of functional cognition served as the critical first steps in measure development.
Impacts:
A state-of-the-art TBI-specific measure of functional cognition is important to provide an efficient, precise, and ecologically valid measure of cognitive rehabilitation for individuals with TBI.