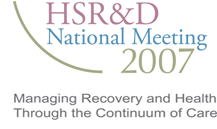 2003 — Using the New Geriatrics and Extended Care Referral Form for HSR&D
Hedrick SC (Seattle CoE) , Guihan M (Hines CoE), Burris J (Geriatrics and Extended Care- VACO), Shay K (Geriatrics and Extended Care VACO)

Workshop Objectives:
In FY 2005, VA spent $2.9 billion on long-term care services. Until now, research on these programs has been severely limited by lack of data. A new, state of the art, uniform referral form, the Geriatrics & Extended Care Referral Form (GEC), is now in the process of national implementation. This form was adapted from a tool developed for the Michigan Medicaid Program based on the Minimum Data Set-Home Care (Fries et al., 1997) and intended to identify individuals eligible for services and their most appropriate level of care. The GEC allows for the first time a standardized picture of patients' demographics, social support, physical/psychosocial health status, behavioral problems, previous receipt of care, current needs/goals for care, and program referred to in a single database. This workshop will provide important information for researchers interested in using this important new resource and support interest in studies that can address the major clinical and management challenges in providing long-term care services that are both high quality and cost-effective.
Activities:
Representatives of Geriatrics and Extended Care in VACO will first present information on the background and the clinical and management goals of the GEC, the data elements and how they are collected, and how researchers can obtain data access. The HSR&D researchers on the panel will then provide as examples of the uses of the GEC, brief descriptions of the first research projects using data from the referral form, including the national Evaluation of the Assisted Living Pilot Project and a current study of VA long-term care referrals. This discussion will focus on clarifying the strengths and weaknesses of the GEC for research. The audience will then take part in an interactive discussion of other potential research questions, including those suggested by the VACO leadership as important questions as well as audience members' research interests. All participants will discuss how data from the GEC could be used to address each potential question.
Target Audience:
HSR&D researchers with interest in studies of VA long-term care programs
Assumed Audience Familiarity with Topic:
None