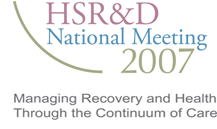 3031 — Symptoms during Recovery from Prostate Cancer Treatment: Opportunities for Improved Management
Green GL (San Francisco Veterans Affairs Medical Center) , Carter DN (San Francisco Veterans Affairs Medical Center), Latini DM (Baylor College of Medicine, Houston), Devadoss R (San Francisco Veterans Affairs Medical Center), Kaniu-Mwaniki P (San Francisco Veterans Affairs Medical Center), Barker JC (University of California, San Francisco), Sands LP (Purdue University), Chren M (San Francisco Veterans Affairs Medical Center), Knight SJ (San Francisco Veterans Affairs Medical Center)

Objectives:
While prostate cancer outcome studies have focused on sexual, urinary, and bowel dysfunction, recent evidence suggests that men may experience a broader range of symptoms than the localized effects other studies primarily report. The purpose of this study is to provide a fuller understanding of the range of symptoms associated with prostate cancer and treatment, and to identify unmet needs for symptom management.
Methods:
Thirteen focus groups were conducted. These were comprised of 16 African-American and 45 Caucasian male veterans, aged 47-85, most of whom were on Medicare, all diagnosed within the previous 5 years with localized prostate cancer, and recruited from the San Francisco VA Medical Center urology clinics. Each group was homogenous with respect to participant and moderator ethnicity and treatment type (i.e., prostatectomy, external beam radiation, brachytherapy, or surveillance). Predetermined, open-ended questions and probes guided the 1-hour-long discussions that were audio-taped, transcribed, and then coded using NVivo® software. Two coders independently performed a content analysis that explored important themes in the men's narratives about their prostate cancer care experiences. Discrepancies were resolved by a third coder.
Results:
While sexual and urinary symptoms were widely mentioned in the groups, bowel symptoms were not frequently discussed. Across all treatment groups, the men reported a wide range of other symptoms, including systemic, emotional/psychological, and non-clinical life disrupting effects (e.g., decreased time spent with family, not being able to meet responsibilities, etc). Dermatological and gastrointestinal (e.g., nausea, vomiting, etc.) symptoms were reported infrequently, but significant for those respondents. The discussion focus often shifted to symptom management strategies, both successful and not.
Implications:
These study results support previous work that has demonstrated the importance of examining not only functional symptoms (i.e., sexual, urinary, and bowel) in patients treated for prostate cancer, but also non-localized effects that can disrupt daily life.
Impacts:
Decision support tools used in prostate cancer care should include information on the full range of symptoms that can be expected during prostate cancer treatment and recovery. Additionally, it will be important to ensure that clinical guidelines outline symptom management pathways broadly rather than focusing exclusively on the previously well-documented genitourinary and bowel side effects.