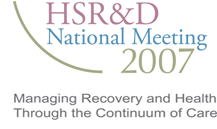 3004 — Targeting Primary Care Patients with Severe Pain: A Pilot Study of a Clinical Reminder Coupled with Feedback of Pain Information
Bair MJ (Roudebush VA Center of Excellence on Implementing Evidence Based Practice) , Sutherland JM (Roudebush VA Center of Excellence on Implementing Evidence Based Practice), Nyland KA (Roudebush VA Center of Excellence on Implementing Evidence Based Practice), Williams LS (Roudebush VA Center of Excellence on Implementing Evidence Based Practice), Kroenke K (Roudebush VA Center of Excellence on Implementing Evidence Based Practice)

Objectives:
Clinical reminders (CRs) have been effective for promoting preventive services, monitoring diabetes, and treating hypertension. However, the literature on CRs and decision support in pain management is sparse and limited to use in cancer pain. Among primary care patients with severe pain, we evaluated the feasibility and impact of a simple intervention on pain management processes of care and patient outcomes.
Methods:
We conducted a pilot clinical trial at a single VA Medical Center. The intervention involved: (1) a computerized clinical reminder (CR) that identified patients with severe pain (pain score 7 to 10), coupled with (2) assessment of pain information (e.g., pain-related concerns and expectations for treatment); and (3) feedback of this patient information to primary care providers at the index clinic visit. We randomly assigned two general medicine clinics (and their providers) to the intervention or control (i.e. no CR or feedback) arms. Patient assessments were done prior to their clinic visit, immediately after the visit, and at 3-months. Outcomes included change in pain treatment, unmet expectations, and satisfaction with pain treatment. Descriptive statistics were generated and multivariate regression models were used to describe the relationship between covariates and outcomes.
Results:
Participants (N = 100) had a mean age of 57; were 97% men, and 76% White. Forty-five percent were unable to work because of health or disability reasons and 65% had clinically significant depressive symptoms. Two-thirds of patients worried that something serious might be causing their pain. At baseline, there were no significant differences on demographic and clinical parameters between intervention and control patients. Overall, patients averaged approximately 5 expectations regarding their pain treatment. The number of expectations met at the visit was 2.7 in the control vs. 3.0 in the intervention arm (p=.28). We did not have adequate power to detect differences in satisfaction with pain treatment.
Implications:
An intervention targeting primary care patients with severe pain proved feasible and identified veterans with significant disability and depressive symptoms and at greatest risk for adverse effects of ineffective pain treatment.
Impacts:
Finding effective ways to elicit and address patient expectations and concerns are important aspects to quality of care.