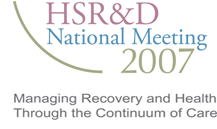 3106 — Barriers to Achieving Clinical Capacity in Women's Health Care in VA Facilities
YANO EM (VA Greater Los Angeles HSR&D Center of Excellence) , BEAN-MAYBERRY B (VA Greater Los Angeles HSR&D Center of Excellence), LANTO AB (VA Greater Los Angeles HSR&D Center of Excellence), WASHINGTON DL (VA Greater Los Angeles HSR&D Center of Excellence)

Objectives:
Women veterans' numerical minority creates substantial challenges for VA managers and providers aiming to deliver high quality care for this diverse but rapidly growing segment of VA users. We conducted a national organizational survey to evaluate the factors associated with achieving clinical capacity to deliver high quality care to women veterans.
Methods:
In 2001, we administered key informant surveys among VA leaders at all VA facilities serving 400 or more women veterans (n=126), incorporating measures representing enabling, predisposing, reinforcing, and need-related variables. We used factor analysis to develop a 2-item scale of women's health clinical capacity (Cronbach's alpha = 0.83). We examined bivariate associations with area and organizational characteristics, and performed multivariate regression to determine the independent factors associated with having women's health clinical capacity, adjusting for caseload and urban/rural location.
Results:
VA facilities that achieved higher clinical capacity in women's health were more likely to be academically affiliated (p<.05) and embue senior women's health clinicians with higher staffing authority (p<.05). VA facilities with higher reported barriers to achieving women's health clinical capacity were more likely to contract for care in the community (p<.05). Facilities in VISNs that rated patient complaints as an important factor in determining the extent to which health care for women veterans was being optimally delivered were less likely to have women's health clinical capacity (p<.01).
Implications:
To achieve women's health clinical capacity under constrained resources, VA managers appear to have opted to either confer greater staffing authority to women's health clinical leadership, which may be facilitated by academic partnerships, or to revert to contract care in the community. VISN policies, directly or indirectly, also influence clinical capacity, but would benefit by being more proactive than reactive to patient complaints.
Impacts:
The historical predominance of men in VA settings has resulted in gaps in clinical competencies in delivering care to women veterans. These gaps must be filled and require attention to the clinical resources necessary to meet the challenges of these complex patients to achieve equitable care. More research is also needed to better understand the quality of contract care delivered to women veterans in the community.