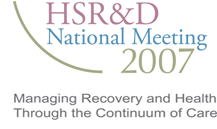 1011 — The Veterans' Study to Improve The Control of Hypertension (V-STITCH): A Patient and Provider Intervention to Improve Blood Pressure Control
Bosworth HB (Durham VAMC) , Olsen MK (Durham VAMC), Dudley T (Durham VAMC), Orr M (Durham VAMC), Goldstein MK (Palo Alto VAMC), Datta SK (Durham VAMC), McMcant F (Durham VAMC), Gentry P (Durham VAMC), Simel DL (Durham VAMC), Oddone EZ (Durham VAMC)


Objectives:
Despite evidence-based guidelines, few veterans with hypertension have adequate blood pressure (BP) control. This trial determined the effectiveness of both a provider intervention and a patient intervention for improving patient BP control.
Methods:
A two-level cluster randomized controlled trial with two-year follow-up was conducted in the Durham VAMC primary care clinics. Four groups were examined: provider hypertension decision support—no patient behavior intervention; provider hypertension reminder control--patient behavioral intervention; combined provider hypertension decision support and patient behavioral; and hypertension reminder control—no patient behavior. Thirty-two primary care providers were randomly assigned to a hypertension reminder control group or electronically generated hypertension decision support intervention (ATHENA) for their hypertensive patients. Control providers received a hypertension reminder; the decision support delivered patient-specific guideline-based prescribing recommendations to the provider at each hypertensive patient's visit. 588 of the providers' hypertensive patients were randomized to receive a bi-monthly tailored nurse delivered behavioral telephone intervention to improve hypertension-specific behaviors or usual care. The proportion of patients who achieved a BP <140/90 mm/Hg (<130/85 for diabetic patients) based on values obtained by protocol-trained nurses at primary care clinic visits over the 24 month intervention was the main outcome.
Results:
Of the 816 eligible patients contacted, 190 refused and 38 were excluded (76% recruitment rate). The 588 patients included were on average 63 years old, 40% African-American, 43% had adequate baseline BP control, and 482 (82%) completed the 24-month study. Rates of BP control improved for the combined group, hypertension provider reminder and patient behavioral, and hypertension reminder arms, but not the provider decision support arm over the 24-month trial. In secondary analyses, rates of BP control for patients receiving the behavioral intervention improved to 65% at 24 months compared to 53% in the non-behavioral intervention group, irrespective of provider intervention (p=0.03).
Implications:
A tailored, brief behavioral intervention focusing on patient adherence with prescribed hypertension regimen improved BP control among veterans in the primary care setting.
Impacts:
Focusing on patient behavior interventions may have larger effects on BP control than provider interventions.