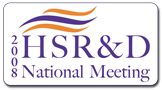 3062 — Delayed-Onset PTSD among Patients in VA Primary Care Clinics
Grubaugh AL (Charleston TREP) , Frueh BC (Charleston TREP), Magruder KM (Charleston TREP)

Objectives:
To expand our understanding of delayed-onset posttraumatic stress disorder (PTSD) prevalence and phenomenology in a large multi-site study conducted with veterans in Veterans Affairs (VA) primary care clinics.
Methods:
A cross-sectional, epidemiological design (n = 745) incorporating structured interviews was used to obtain relevant information for analyses.
Results:
Among veterans with identified PTSD or sub-threshold PTSD, 8.3% (7/84) met criteria for delayed-onset PTSD, and 6.9% (2/29) met criteria for delay-onset sub-threshold PTSD, respectively. Only 11.9% (10/84) of cases of PTSD reported symptom development within the first month after the index trauma; however, only 3 of 745 (0.4%) veterans developed full PTSD with PTSD symptoms developing more than 1-year after the trauma, and no PTSD symptom onset was reported more than 6-years post-trauma. Because the number of delayed-onset PTSD and sub-threshold PTSD cases was so low (7, 2 respectively), secondary analyses related to predictors and correlates of delayed-onset was not feasible.
Implications:
Retrospective reports of veterans reveal that delayed-onset PTSD is rare, but present among veterans served by VA primary care clinics. Examination of the frequency distribution of temporal onset of PTSD relative to the index traumatic event indicates that PTSD symptom onset six or more years after trauma exposure among veterans either does not occur or is exceedingly rare. Future research is needed to enhance our understanding of the onset and course of PTSD in veteran and civilian trauma survivors, including definitional clarity, prevalence, temporal distribution of delayed onset, and phenomenological features associated with delayed onset.
Impacts:
In combination, these data indicate that PTSD symptom onset six or more years after trauma exposure among veterans treated within the VA either does not occur or is exceedingly rare. One implication of these findings is that the dramatic recent increase in the numbers of Vietnam veterans seeking VA disability payments for PTSD cannot easily be explained as the result of a growing number of new cases of "delayed-onset" PTSD. Thus, these data have implications for one aspect of the current national discussion regarding VA PTSD disability administrative trends and policies.