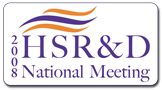 2007 — Demystfying the Scientific Review Process
Bryan M (VA HSR&D Central Office) , Westermeyer J (Minneapolis VAMC), Babcock-Parziale J (Tucson VAMC), Egede L (Charleston VAMC), Vogel W (Gainesville VAMC)

Workshop Objectives:
The scientific review process may appear not to be transparent to new investigators. This session takes the newer investigators behind the scenes to actually see a live review on stage. The objectives of this workshop are: 1) to provide an overview of the scientific review process, 2) to demonstrate through an anonymous review of two research applications how a scientific review is conducted, and 3) to respond to investigators' questions that may provide pointers on developing a winning proposal.
Activities:
Presentations will include a brief didactic overview of scientific review guidance, followed by the demonstration of an actual scientific review of two research proposals. The panelists will then respond to questions posed by the audience.
Target Audience:
Newer health services researchers who are preparing a research proposal for VA's health services research or another agency.
Assumed Audience Familiarity with Topic:
No prior experience with scientific review will be presumed.