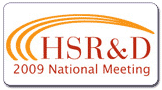 1060 — Depression, Anxiety Disorders and Risk of Incident Heart Disease in a National Cohort of Veterans Health Administration Patients
Scherrer JS (St. Louis VAMC and Washington University School of Medicine) , Chrusciel T (St. Louis VAMC and Washinton University School of Medicine), Zeringue A (St. Louis VAMC and Washington University School of Medicine), Bucholz KK (Washington University School of Medicine), Jacob T (Palo Alto Veterans Affairs Health Care System), Owen R (Little Rock VAMC), Carney RM (Washington University School of Medicine), Freedland KE (Washington University School of Medicine), Lustman P (St. Louis VAMC and Washington University School of Medicine), True WR (St. Louis VAMC and Washington University)


Objectives:
Depression has been shown to be an independent risk factor for incident coronary heart disease. Although depression and anxiety disorders are often comorbid, little is known about the independent effect of anxiety and the potential increased risk for heart disease due to comorbidity. We examined the effect of the major anxiety disorders, depression, and their interactions on the risk of incident myocardial infarction (MI). Positive findings would suggest the importance of monitoring cardiovascular health in the management of depressed patients with and without comorbid anxiety disorders.
Methods:
Using VA administrative patient records, we abstracted a cohort free of heart disease in fiscal years 1999 and 2000, aged 40-60, who had an ICD-9-CM code indicating a diagnosis of depression in 2000 (baseline) (122,451 patients) and another 147,282 patients who were free of depression. All patients had one or more of the following disorders at baseline: panic disorder, generalized anxiety disorder (GAD), social phobia (SP), obsessive compulsive disorder (OCD), and posttraumatic stress disorder (PTSD). Incident MI was any ICD-9-CM code for MI between 2001 and 2006. Separate Cox proportional hazard models were computed to test for main effects of depression, comorbid panic disorder, GAD, SP, OCD, and PTSD before and after adjusting for hyperlipidemia, hypertension, diabetes, age, gender, and race.
Results:
Univariate models indicated that depression (RR = 1.16; 95%CI:1.11-1.20), panic disorder (RR = 1.26; 95% CI: 1.17-1.35), GAD (RR = 1.24; 95%CI: 1.17-1.30), and PTSD (RR: 1.31; 95%CI:1.26-1.36) were associated with increased risk of MI. In each multivariable Cox model, depression remained associated with risk of MI (HR = 1.08, p < 0.05). Anxiety disorders and interactions effects were not significantly associated with MI after adjusting for covariates.
Implications:
In VA patients initially free of heart disease, those with depression, panic disorder, or PTSD were at increased risk of incident MI. After adjusting for hyperlipidemia, hypertension, diabetes, age, gender, and race, depression, but not anxiety disorders, remained significantly associated with incident MI.
Impacts:
Depression is a risk factor for incident heart disease in VA patients. Increased monitoring and education in depressed patients may decrease risk for MI. Further research is warranted to determine whether successful treatment of depression reduces risk of MI.