April 21, 2022
HSR&D Announces Daniel Deykin Award for Outstanding Mentor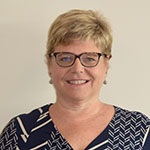 Alison B. Hamilton, PhD, MPH
Alison B. Hamilton, PhD, MPH, is the recipient of the 2021 HSR&D Daniel Deykin Award for Outstanding Mentor, which is presented each year to an HSR&D researcher(s) who exhibits outstanding dedication in mentoring the next generation of researchers. Skills of importance include fostering an appreciation for the vital input provided by VA stakeholders, including policymakers and Veterans, and guiding mentees toward an understanding of the positive impact research can have on the health and care of Veterans.
A Research Career Scientist with HSR&D's Center for the Study of Healthcare Innovation, Implementation & Policy (CSHIIP), Dr. Hamilton serves as the Chief Officer of Implementation & Policy, and directs the EMPOWER QUERI program. Her research priority is improving the health and care of women Veterans. Currently, Dr. Hamilton advises 36 mentees. She also serves as co-director of the VA Greater Los Angeles Advanced Fellowship in Health Services Research, bringing her mentoring expertise and knowledge about VA as a Learning Health System to the training and mentorship of current and future fellows. She is generous with her mentees and also with colleagues in the field, advancing VA research through training and education in well-attended seminars and workshops within and outside VA across the country.
In addition, Dr. Hamilton has been dedicated to engaging Veterans in research. Toward this goal, she launched the HSR&D Women's Health Research Network's Women's Improvement Network, a national group of women Veterans who are committed to informing and improving VA women's health research. She consults with investigators on how to develop project-specific Veteran Engagement groups, and routinely advises her mentees on engaging Veterans and other stakeholders in research, as well as fosters mentees' appreciation and necessity for communication with VA stakeholders. Dr. Hamilton often advocates for her mentees with operational partners, such as VA's Office of Women's Health and the Office of Mental Health & Suicide Prevention and, more importantly, brings her mentees into practice and policy conversations, inviting them to present their work to national VA leaders and orienting them to operational priorities. Further, with a national network of colleagues, Dr. Hamilton routinely fosters her mentees' access to professional development opportunities. She is deeply committed to mentoring a diverse group of mentees whose work primarily focuses on improving quality and experiences of care for marginalized populations.
What her mentees say
Katherine Iverson, PhD, a former HSR&D Career Development Awardee, said, "Her research mentoring includes high-level critiques and feedback to develop the innovative, impactful aspects of my work; facilitating leadership skills to help me build effective teams, spearheading multiple projects with competing demands; and helping others develop a 'Yes, we can' mindset." Lisa Callegari, MD, MPH, also a former HSR&D Career Development Awardee, shared, "One of Dr. Hamilton's great strengths as a mentor is providing inspiration to her mentees on how to conduct meaningful, high-impact research within the VA that is grounded in Veterans' needs and that aligns with operational partners' needs."
HSR&D thanks Dr. Hamilton for her continuing contributions to improving the health and care of our Veterans, particularly women Veterans, through her impressive research and exceptional mentorship.
---
HSR&D also greatly appreciates the Daniel Deykin Outstanding Mentor of the Year Nominees for their generous support of health services researchers; they include: