June 21, 2023
HSR&D Announces Daniel Deykin Award for Outstanding Mentor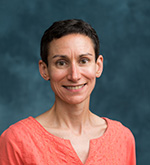 Sarah L. Krein, PhD, RN
Sarah L. Krein, PhD, RN, is the recipient of the 2022 HSR&D Daniel Deykin Award for Outstanding Mentor, which is presented each year to an HSR&D researcher(s) who exhibits outstanding dedication in mentoring the next generation of researchers. Skills of importance include fostering an appreciation for the vital input provided by VA stakeholders, including policymakers and Veterans, and guiding mentees toward an understanding of the positive impact research can have on the health and care of Veterans.
Dr. Krein is a Research Career Scientist with HSR&D's Center for Clinical Management Research (CCMR) in Ann Arbor, MI. She also holds an endowed professorship at the University of Michigan (U-M) as the Rensis Likert Collegiate Professor – and is a Professor of Internal Medicine and an Adjunct Research Professor at the U-M School of Nursing. Over the past 25 years, Dr. Krein has produced a body of highly impactful work in patient safety, which spans two decades, supported by more than 40 grants totaling nearly $30 million in funding. She has also conducted influential and impactful work in diabetes care, implementation science, and pain management. Dr. Krein also served as co-director of the Diabetes QUERI Center. In addition, Dr. Krein leads two HSR&D-funded studies. One is a multi-site evaluation of self-administered acupressure for Veterans suffering with chronic back pain; the other, co-led by Dr. Donovan Maust, will explore leveraging dual use healthcare (VA and Medicare) to improve care for Veterans living with dementia. Currently, Dr. Krein also advises 16 mentees.
What her mentees say
Vineet Chopra, MD, MSc, Robert W. Schrier Endowed Chair of Medicine, University of Colorado School of Medicine, said, "Dr. Sarah Krein is truly deserving of this award. I know of few mentors who possess the accomplishment, skill, self-awareness, and humility to play the role that Sarah does as a mentor. In my career, this has been absolutely invaluable and I know the case has been similar for countless other VA investigators."
Sameer Saini, MD, MS, Director, CCMR, said, "Sarah is an outstanding mentor, researcher, role model, and leader, one who never seeks the spotlight or attention, but who is truly remarkable when you consider her impact on a broad and diverse array of mentees both directly and indirectly over a long and highly impactful career. She is kind and thoughtful, a brilliant methodologist, a renaissance woman (did you know that she flies helicopters?), and an exceptional mentor, advisor, and sponsor."
HSR&D is very grateful for Dr. Krein's continuing contributions to improving the health and care of our Veterans – and for her exceptional mentorship that helps ensure the next generation of dedicated researchers.
---
HSR&D also greatly appreciates each of the Outstanding Mentor Award Nominees, who help ensure the next generation of exceptional researchers. The nominees were:
David H. Au, MD, MS, HSR&D's Center of Innovation for Veteran-Centered & Value Driven Care and the VA Puget Sound Healthcare System.
Dawn M. Bravata, MD, HSR&D's Center for Health Information and Communication (CHIC) and the Richard L. Roundebush VA Medical Center. Dr. Bravata also co-leads the EXTEND QUERI program.
David Edelman, MD, MHS, HSR&D's Center of Innovation to Accelerate Discovery and Practice Transformation (ADAPT) and the Durham VA Health Care System.
Mary Ersek, PhD, RN, HSR&D's Center for Health Equity Research and Promotion (CHERP) and the Corporal Michael J. Crescenz VA Medical Center.
JoAnn E. Kirchner, MD, Center for Mental Healthcare and Outcomes Research (CeMHOR) and the Central Arkansas Veterans Healthcare System.
Mary A. Whooley, MD, FACP, FAHA, FACC, FAMIA, co-leads Measurement Science QUERI and is part of the San Francisco VA Health Care System.
Donna Zulman, MD, MS, HSR&D's Center for Innovation to Implementation (Ci2i) and the VA Palo Alto Health Care System. Dr. Zulman also leads the QUERI Evaluation of Video Telehealth Tablets project.