June 21, 2023
HSR&D Announces Health System Impact Award Recipient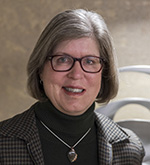 Laura Damschroder, MS, MPH
Laura Damschroder, MS, MPH, is the recipient of the 2022 HSR&D Health System Impact Award. This award honors HSR&D- and QUERI-funded research that has had a direct and important impact on clinical practice or clinical policy within the VA health care system – and that has been successfully translated into VA's policy or operations.
As part of HSR&D's Center for Clinical Management Research (CCMR) and in former roles as a leader in multiple QUERI programs and partnerships, Ms. Damschroder earned the Impact Award because of her research impact related to effective, system-wide implementations with demonstrated improvements in Veterans' health. Her work has also changed how researchers conduct health services research, nationally and internationally.
Advancing Implementation Science to Accelerate Use of Evidence-based Healthcare.
Ms. Damschroder developed The Consolidated Framework for Implementation Research (CFIR), which is used to plan, conduct and evaluate implementations. Too many implementation efforts fail because of powerful contextual factors that act as forces against success. In randomized controlled trials, innovations are tested in settings where many contextual factors are carefully controlled. But in the real-world, this level of control is not possible. Implementation science embraces the reality that contextual factors must be understood, mitigated, or navigated through for successful implementation. The CFIR helps people do this; it has been listed in the top five most accessed articles within the flagship journal, Implementation Science, since its publication in 2009. The CFIR is a public resource and common good—free and open to all—and will continue to evolve.
Addressing Obesity
Ms. Damschroder's research extends beyond advancing implementation science. She also has been a leader in developing and implementing interventions to address the rising rate of obesity among Veterans.
Laura has been a leader in developing and implementing interventions to address the rising rate of obesity among Veterans, a high-priority area not only for my Program Office, but also for VHA, for HSR&D, and for the nation. —Jane Kim, MD, MPH, Executive Director for Preventive Medicine, VA's National Center for Health Promotion and Disease Prevention
Ms. Damschroder's work also led to changes in implementation guidelines for the MOVE! Weight Management Program. In addition, she has provided algorithms to guide optimization and integration of weight management across disciplines – and has worked to integrate quality improvement into the work-life of 51 MOVE! teams (including more than 250 frontline staff).
HSR&D and QUERI are very pleased to honor Ms. Damschroder's research that continues to help VA provide Veterans with evidence-based care better and faster through advancements in implementation science, thanks, in part, to her valuable work.
---
HSR&D also greatly appreciates each of the Health System Impact Award Nominees, whose work helps VA improve the system and, thus, healthcare for our Veterans. The nominees were: