Center for Mental Healthcare and Outcomes Research (CeMHOR)
Temporary page: CeMHOR web page under construction.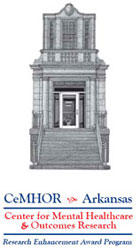 Since 1990, CeMHOR has strived to improve access to care, quality of care and outcomes of care for veterans with prevalent and serious mental disorders. Our research focus has evolved from developing outcomes assessment modules for depression, dementia, schizophrenia and substance use disorders (SUDs) for use in routine care settings—to quality measurement and qualityoutcome relationships for these disorders, with interest in treatment adherence as a predictor of positive outcomes—to developing and testing interventions to improve care for patients with depression, dementia, schizophrenia and SUDs.
Our interventions improve care by helping consumers engage in care, participate in shared decision-making, adhere to treatment, and use self-management approaches, and by giving providers and managers the tools and strategies needed to deliver evidence-based, recovery-oriented care. Complementing our intervention research, CeMHOR investigators conduct developmental research to better understand the extent and causes of problems in mental healthcare and identify barriers and facilitators to possible solutions. CeMHOR researchers also investigate how to translate successful interventions into practice through implementation studies. These studies—and CeMHOR expertise in implementation science—inform intervention development.
Located in North Little Rock, Arkansas, at the Central Arkansas Veterans Healthcare System (CAVHS), CeMHOR is a major hub for mental health services research activity both within the VA and outside the agency. CeMHOR is located in the same building with the Mental Health Quality Enhancement Research Initiative (QUERI) Coordinating Center and the South Central Mental Illness Research, Education & Clinical Center (MIRECC). With CeMHOR, these centers serve as important resources for researchers, policymakers and managers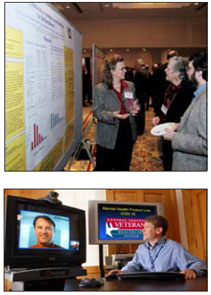 CeMHOR goals are to:
Sustain a superior environment for inquiry to generate and support the highest-quality mental health services research
Increase capacity in the mental health services research field by training, mentoring, recruiting, and collaborating
Develop and test innovative services interventions to improve care for veterans with mental health and/or substance use disorders
Pursue a research agenda to promote transformation to a recovery-oriented mental health system in the VHA
Pursue a research agenda to improve mental health treatment and outcomes for veterans with mental illness who have complex, comorbid conditions
Promote widespread dissemination and implementation of effective interventions into routine practice
CeMHOR's research staff consists of core investigators and postdoctoral fellows drawn from the disciplines of psychiatry, psychology, pharmacy, biostatistics, epidemiology, sociology and medical geography.
CeMHOR Core Investigators:

Brenda M. Booth, PhD
Geoffrey M. Curran, PhD
Ellen P. Fischer, PhD
John Fortney, PhD
Teresa Hudson, PharmD

JoAnn Kirchner, MD
Dinesh Mittal, MD
Richard R. Owen, MD
Jeffrey M. Pyne, MD
Jeff Smith, PhD Candidate

Contact
2200 Fort Roots Drive
Building 58 (152/NLR)
North Little Rock, AR 72114
Receptionist: (501) 257-1727
Fax: (501) 257-1707
richard.owen2@med.va.gov