Subscribe to the
ESP Report RSS feed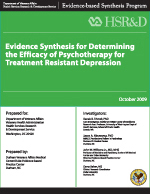 Determining the Efficacy of Psychotherapy for Treatment Resistant Depression
Investigators: Ranak B Trivedi, PhD,1,2 Jason A Nieuwsma, PhD,3 John W Williams, Jr, MD, MHS,3,4,5 and Dana Baker, MS4.
1 Seattle VA HSR&D Center of Excellence, Seattle, WA
2 University of Washington Dept of Health Services, School of Public Health, Seattle, WA
3 Durham VA Medical Center, Durham, NC
4 Duke University, Durham, NC
5 Evidence-Based Practice Center, Durham, NC

Washington (DC): Department of Veterans Affairs; October 2009.
Download PDF: Complete Report, Executive Summary, Report, Appendices
Summary / Overview
Major depressive disorder (MDD) is a prevalent disorder impacting an estimated 13% of the general population, and a third of the veteran population. Antidepressant medications are the most commonly prescribed treatment modality for MDD and are often the first line of treatment in primary care settings. However, fewer than 50% of patients fully remit after adequate dosage of antidepressant treatment. Treatment options for these "treatment resistant" patients vary but typically involve using other psychoactive medications as augmentation (i.e., addition of another medication) or substitution treatment (i.e., switching medications). Less attention has been paid to using psychotherapy as an augmentation or substitution treatment for treatment resistant patients, despite psychotherapy being associated with clinical improvements in MDD comparable to those achieved with antidepressants. The current review will address the effectiveness of psychotherapeutic approaches as a second step treatment for MDD in patients who do not achieve remission after initial treatment with antidepressants.
The systematic literature review addressed the following key question:
In primary care patients with major depressive disorder who do not achieve remission with acute phase antidepressant treatment, is empirically based psychotherapy used as an augmentation or substitution treatment more effective than control for achieving remission?